Return to Headlines
Building Justice and Growth through Juvenile Home School programs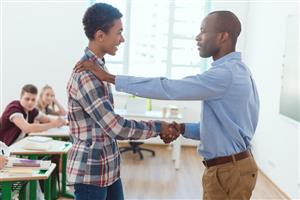 August 5, 2020
As part of its special education services, Kalamazoo RESA (KRESA) operates two Juvenile Home School programs, the Youth Center School (YCS) for residentially detained young people, and the Intensive Learning Center (ILC) for court-ordered young people living with their families or in foster care. The students in the school range from 7th grade to 11th grade.
Both the ILC and YCS programs are co-administered by KRESA, Family Court, the Juvenile Home, Day Treatment, and local school districts in Kalamazoo County and the surrounding areas. Principal Laura Draper leads from a deep motivation to give students a high-quality education.
"Our mission is to offer excellent instruction and educational resources that meet students where they're at," she said. "Beyond academics, we focus on social-emotional growth and building restored relationships with their families and community."
Especially since the rise of the Black Lives Matter movement beginning in 2014, white supremacy and how it poisons communities has been a major part of public discourse. The connection cannot be ignored between injustice in the criminal justice system and the life outcomes of people of color (especially those who are Black and/or Latinx).
"Our students, who are mostly people of color, know the criminal justice system isn't built to work in their favor," Draper said. Younger students know things aren't fair, but they don't always have the language to describe what they're experiencing or know the historical or society-wide contexts for why they're experiencing it. The older kids spot racism very easily."
According to the US Office of Juvenile Justice and Delinquency Prevention and the US Census, populations of young incarcerated Michiganders are disproportionately people of color. Kalamazoo county specifically arrests and incarcerates Black youth at rates double to triple national and state averages.
According to the Michigan Committee on Juvenile Justice, Black children in Kalamazoo County have been arrested at rates eight to ten times higher than their white peers over the past five years, and are eleven times more likely to be charged with multiple crimes at once.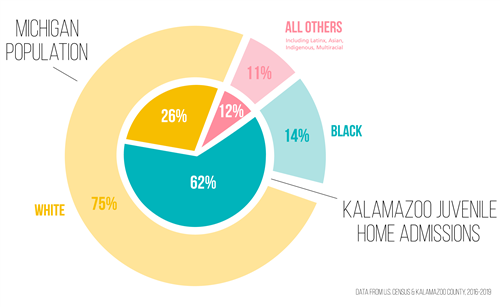 They are often arrested for disorderly conduct, a subjective and vague category, while not a single white young person was arrested for disorderly conduct in MCJJ's data. Accusations of motor vehicle theft have gotten young Black people arrested at 42 times the rate of white young people, likely due to police stop and frisk policies and practices that uniquely target Black drivers.
About two-thirds of the students admitted to the Juvenile Home from 2016 to 2018 were Black. The Juvenile Home School's teachers are all white, while almost all their support staff are people of color. In examining how it can correct inequities the system, one of KRESA's primary goals is recruiting teachers of color, coupled with educating white teachers about racism.
"I think more than other programs that I've seen, KRESA and the Juvenile Home put an effort toward addressing anti-racism and anti-bias in their own environments," tutor Jermaine Williams said.
Staff of color like Williams are critical to students' success, not only because of their academic guidance, but also because they are trusted adults who demonstrate leadership and can share their own experiences with racism.
Staff are consciously adding more books written by people of color, and content that centers the experiences of people of color, into their curriculum.
"History, at least most of the history in standard curriculum, is written by and about white people," Draper said. "We need to revamp texts and find or create curriculum to be more honest, relevant, and representative of the often-ignored experiences of everyone else."
In addition to customizing content, staff and students have had to create new structures because of the COVID-19 pandemic. Prior to March, the Juvenile Home's educational programs looked a lot like traditional school. Students have a variety of teachers, classes and projects. They get the individual attention and customized assistance they need because classes are capped at 10 students and they have access to individual tutoring.
"We [staff] spend so much time with them one on one, so it's a lot easier to understand what we need to improve from that," said Williams.
Adapting to distance learning, like many other schools, required the Juvenile Home team to get resourceful and creative. In the interest of helping students avoid feeling overwhelmed, rather than maintain regular structures with multiple teachers, they created pods of students who have one teacher who acts as a direct point of contact and conducts video calls every week. Teachers were paired with students based on existing foundations of trust.
Draper and her colleagues collected a survey at the beginning of the pandemic, and found that only nine of their students had access to technology beyond cell phones. Creating a Facebook group to communicate with students proved to be an accessible avenue.
"There just isn't a way to replicate in-person classroom experiences," said Draper. "We knew our students need help from adults not only for their academics, but also to continue their social-emotional learning and keep them connected to us and each other. Independent work packets don't go far enough, so we needed a solution."
The Facebook group has been a home base for current students, as well as former students who are equally interactive.
"We almost never know what our former students are doing after they leave, because we only teach up to 11th grade," Draper said. "It's heartening to see past students post in the group, and say things like 'You don't know what you did for me, and I've missed you so much.' The group will definitely continue even after the pandemic is over because it's been so powerful for so many reasons."