Return to Headlines
Kalamazoo RESA's CTE Counselor Sarah Mullard-Dickman Named Michigan's 2023 School Counselor of the Year
Recently, Kalamazoo RESA's (KRESA) Career & Technical Education (CTE) Counselor Sarah Mullard-Dickman was presented with the 2023 State School Counselor of the Year Award for the State of Michigan, along with other honored school counselors representing their individual states across the country. The award ceremony took place on February 2, 2023, at the Department of Education in Washington, D.C.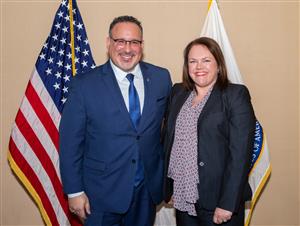 "I'm both humbled and extremely proud to represent the wonderful school counselors in Michigan who work tirelessly for their students and communities," said Mullard-Dickman. "I've learned so much over the past twenty years working with students and their families, teachers, administrators and fellow school counselors and continue to learn more each day. I'm lucky enough to serve in this role."
Dickman enthusiastically added, "I can't imagine a more fulfilling occupation than working with young people to help them overcome barriers and discover their unique interests and talents to create stepping stones to their success beyond high school."
The following information was taken from the winners' biography section of the American School Counselor Association (ASCA) website:
A school counselor since 2004, Sarah Mullard-Dickman has a bachelor's degree in psychology and a master's degree in counselor education from Western Michigan University. When Mullard-Dickman and a previous colleague determined students needed strategies to manage the high levels of stress they were experiencing, they designed classroom lessons and activities to introduce mindfulness and self-care and allow space and time for students to practice these skills. Their goal was to give students a variety of tools to cope with the ongoing challenges of the pandemic in the hope they would find what worked best for them. Through guided meditation, sensory activities and nutrition lessons, as well as gratitude and goal setting, post-assessment surveys found the majority of students were using at least some of the skills and reported feeling stressed fewer days a week. "These tools will continue to serve students as they go into the next phase of their lives, whether it be college, trade school, apprenticeship, military service or going directly into the workforce," Mullard-Dickman said.
Additionally, practicing mindfulness and self-care strategies in the classroom allowed instructors to see the benefits, and many of them participated along with students in the lessons and activities. Many of the instructors adopted some of the strategies, such as soothing music, lower lighting and sensory breaks, as part of their daily classroom routine.
"Working with young people to help them discover their unique strengths and passion is an amazing opportunity," Mullard-Dickman said. "Partnering with students to find what drives them, what they have to offer to the world and how that translates into a career path is truly fulfilling, and to have even a small part in that self-discovery is extremely rewarding."
Mullard-Dickman is a member of ASCA and the Michigan School Counselor Association.