Return to Headlines
Students' Strengths Drive Classroom Strategy
Special education teachers at Kalamazoo RESA support hundreds of students with autism who face unique challenges with speech and nonverbal communication, social skills and behavior. To help them excel in and outside of the classroom, special education teachers are utilizing structured teaching. Structured teaching is a comprehensive framework of evidence-based practices for students with autism and other students who benefit from high structure. It allows teachers to increase engagement so students can access more curriculum time with their non-disabled peers.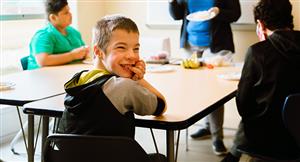 "Instead of focusing on the deficits of some of our students, we look for and capitalize on the strengths that their autism brings to the table," said Kelli Bielang, KRESA Engagement Specialist. "We use those strengths to teach them new skills and help them maintain those skills. That's one of the most exciting things about this framework; it's a strengths-based approach."
Bielang is responsible for implementing the framework, called TEACCH, in special and general education classrooms around the county. TEACCH, or Treatment and Education of Autistic and related Communications Handicapped Children, is a "whole-of-life" program developed at the University of North Carolina in the 1970s. The framework focuses on several key components, including organization of the physical environment, visual information, task organization and work systems.
"TEACCH was designed for students with autism, but it works for students with cognitive impairments and other challenges," Bielang said. "It's an opportunity that lets these kids spend more time in their least restrictive setting."
Bielang said students are finding so much success with structured teaching that more of them are able to return to general education. She shared the story of a recent student with autism who could tolerate a general education setting for about five minutes before displaying aggressive behaviors. Structured teaching has allowed his teachers to work with his autism, rather than against it, making it possible for that student to return to his home district full-time.
"We're not saying we want to change your autism," Bielang said. "What we're doing is putting structures in place that respect their abilities and help them create bridges and connections. We're breaking down barriers."
Maria Stedge is a special education teacher at WoodsEdge Learning Center who is also seeing success with structured teaching. One of her students was struggling in the play area, throwing toys, crying and exhibiting troubling behaviors. Stedge implemented a picture schedule to help teach the student appropriate behavior in that space. "We saw a huge reduction in behaviors after that," she said.
Stedge also used the framework to help an older student who sometimes needed a break away from the noise in the classroom. When he would refuse to return to class, Stedge created a protocol for break time. Once the student learned the routine, he would complete it and return to class, she said.
"All of sudden, you are not looking at them as being disabled," Stedge said. "It's just who they are. When they are doing really well with a specific type of structure, you really see their personality."
"You meet the students where they are. You can't meet them anywhere else."
For more information about KRESA Special Education, visit www.kresa.org.