Return to Headlines
Early/Middle College Program Kicks Off 7th School Year
9/21/21
While students started Kalamazoo RESA's (KRESA) Early/Middle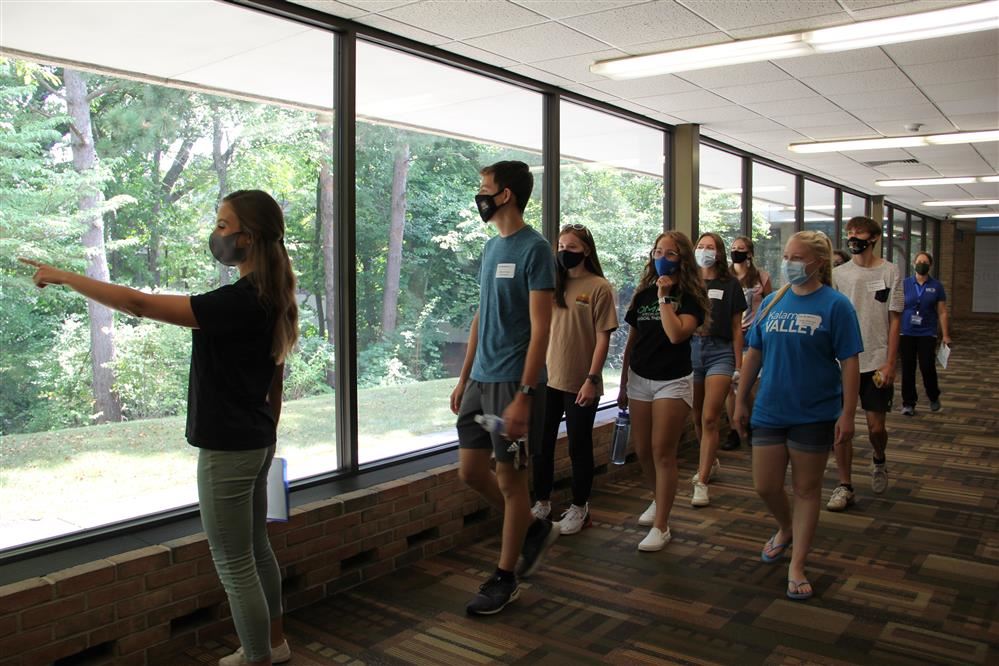 College (EMC) program virtually last fall due to the pandemic, over two hundred students attended this year's Kickoff and Refresh events at Kalamazoo Valley Community College (KVCC), excited to be back in person. The two-day hybrid events hosted current EMC students who will be beginning 11th and 12th grades this fall for the 2021-22 school year.
At the events, students had the opportunity to explore KVCC's campus, learn about EMC supports, meet their EMC mentor, hear from older students in the program, get to know students from other schools in their EMC cohort, and gain valuable tips for success from the EMC staff. "The kickoff and refresh events help students prepare for the new year," said Lisa Bartell, Early/Middle College program coordinator at KRESA. "Our goal for the events is to help students feel comfortable on the KVCC campus, know how to access supports, get to know their mentors and peers in the program, and answer any questions they may have," she said.
The EMC program, which started in 2015, is an innovative early college program that provides students with the opportunity to earn an associate degree or certificate with an additional year of high school. Each student receives an individualized educational plan that gradually introduces them to college courses, helping them transition from high school to college. Programs available to students include Associate Degrees of Applied Science (AAS), Certificates (CERT), Certificates of Achievement (COA), and Transfer Degrees in Associate of Arts (AA) or Associate of Science (AS).
"I liked the head start it [EMC] gave me, it's a time saver and a smooth transition between high school and college," said fifth year EMC student Charles Rodgers. "My next step is going to a 4-year school, with most of my general education classes out of the way."
Benefits of the EMC program include supporting participants by pairing them with a mentor who helps them throughout their time in the program, EMC events throughout the year with valuable information on next steps, , and ensuring they feel comfortable and prepared as they transition to college, said Bartell.
"EMC made me realize my full potential and helped me prepare for the rigor of college classes before attending Northern Michigan University. If I didn't decide to do EMC, I don't think I would've built up the kind of confidence that I have now to go out and do what I'm doing," said Janessa Brown, former EMC student. "Attending KVCC during the EMC program helped encourage me to not only choose the political field, but also helped me realize that law is where I want to be."
With the passage of the KRESA Career & Technical Education (CTE) Millage proposal, Bartell thinks the future of the EMC program is bright. "We're looking forward to continuing to align EMC programming with the CTE programming that will be in the CTE Center opening in the fall of 2024," she said. "Our goal is to develop a pipeline for students that will start with the CTE programming and runs through EMC and all the way to the workforce."
Students interested in the EMC program should be highly motivated and ready for the challenge of completing college-level courses while in high school. To learn more about KRESA's EMC program, visit: https://www.kresa.org/emc or refer to the Programs of Study for specific program options.