Return to Headlines
Learning How to Adult: Growing in Maturity, Independence and Confidence
March 3, 2020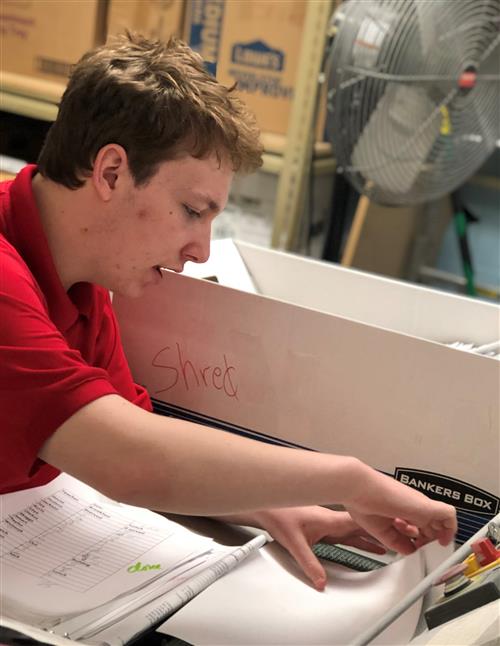 Like most young people in their 20s, during his free time, Alec Otto loves to play video games and hang out with his friends and family. A 2018 graduate of Portage Northern High School, Otto closely follows the Huskie football, hockey and basketball teams. Like many people his age, he is also working toward a successful and independent life, but what that looks like is a little different for Otto. In 2003, he was diagnosed with Autism Spectrum Disorder, a condition that can affect communication and behavior.
Otto and his mother Mimi moved to the Kalamazoo area 18 years ago for its excellent school systems and stayed for the high-quality education programs and supportive community.
One of these programs, Kalamazoo RESA's Transition Services, ensures students with disabilities gain the skills and connections necessary for a successful life after graduation. Students between the ages of 16-26 focus on finding employment, exploring post-secondary education opportunities, living as independent adults and participating in the community.
Throughout his journey, Otto has participated in several Kalamazoo RESA Transition Services, including the Young Adult Program (YAP), Project SEARCH and YAP Community Classrooms (YCC).
"Since Alec has been enrolled in Transition Services, I've seen a huge growth in his maturity, independence, confidence and learning how to 'adult,'" explained Mimi. "He is finally enjoying being out of high school and learning what opportunities are available to him in our area. He now understands that everyone goes their own way and does their own personal best."
From learning how to use the Metro Connect transportation system, to discovering how to shop and cook, as well as how to get out and about on his own, Otto has already accomplished much through Transition Services.
For instance, since January 2019, Otto has been gaining important work experience at the KRESA Print Center. As part of his job, he operates the shredder which shreds confidential documents from across southwest Michigan.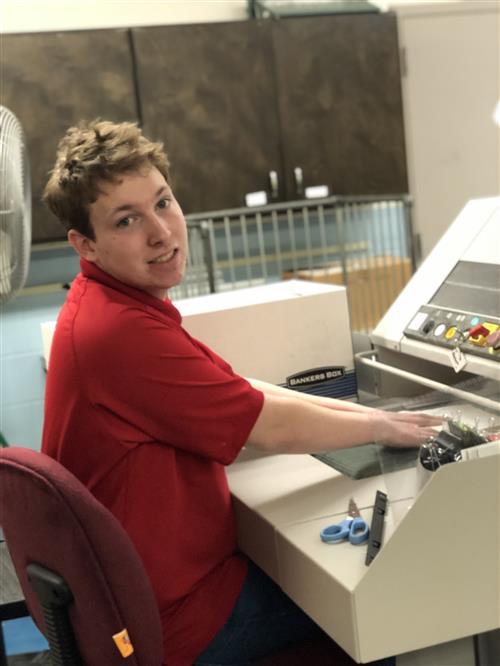 "Alec is a valued member of the Print Center team. He is very well-liked by our staff, works hard and stays on-task," said Otto's supervisor Gary Hubbard, KRESA Print Center manager. "Alec is also always ready to work and visibly enjoys his job. We appreciate the work that he does."
"I enjoy shredding a lot and being on the Print Center team," beamed Otto.
In addition to helping Otto live his happiest and most meaningful life, Mimi is also grateful for the support she has received as his mother through Transition Services.
"It has offered me an opportunity to learn about the programs and resources that are available and has shown me what is possible for my son to achieve in our community," said Mimi. "Transition Services has also given me an informed way to transition from being an advocate to a support person for Alec."
"From skill development, work-based learning experiences to creating community connections, Kalamazoo RESA Transition Services help individuals with disabilities gather critical independent living and employment skills," explained Kathy Hurley, transition coordinator. "These services offer powerful resources to young adults as they transition to a more independent life."
If you're also involved in transitioning an individual with disabilities to life after school, please join us for the sixth annual Kalamazoo County Transition Fair on Wednesday, March 4, from 2:30 to 6:00 p.m. at Kalamazoo RESA's West Campus, 4606 Croyden Ave.
Learn more about the Kalamazoo RESA Transition Services at kresa.org/transition.
Alec and Mimi would like to give a special thank-you to Brenda Gagie, Molly Hammond, Meghan Richter, Deanna Hazard, Kathy Hurley, the incredible teachers, paraprofessionals, administrators and support staff from Kalamazoo RESA and Portage Public Schools, as well as everyone on Team Alec.