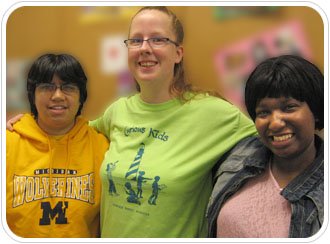 All children in Kalamazoo County qualify for assessment and evaluation of disabilities by Kalamazoo Regional Educational Service Agency (Kalamazoo RESA) and its member districts. Students can receive direct instruction, consultation and/or therapy beginning in infancy and continuing to age 26, if needed. Special education services are designed to provide instruction, at no cost to the parent, to meet the unique needs of a child with a disability.

Kalamazoo RESA is made up of nine school districts and four public school academies, providing a full range of programs and services. The county is divided up into three service areas for the purpose of coordinating special education services for students:
Central Service Area - Kalamazoo Public Schools


Interim Director: Rikki Saunders
Contact: (269) 337-0161 Fax: (269) 337-0169


Eastern Service Area- Climax-Scotts, Comstock,




Galesburg-Augusta, Gull Lake, Parchment


Director: Janan Zimmerman
Contact: (269) 250-8924 Fax: (269) 250-8921



Southern Service Area- Portage, Schoolcraft, Vicksburg



Director: Jeanine Mattson-Gearhart
Contact: (269) 323-5010 Fax: (269) 323-5011
The service areas and member districts each employ special education staff and serve the public school districts and non-public schools in their geographic areas.

---
Another valuable resource is Project Find Michigan, which helps young people ages 0-26 with physical, social, emotional or learning conditions that prevent them from succeeding in school. Please visit their web site for more information.
---
Kalamazoo RESA provides programs and services on a county-wide basis which act in support to the school districts in the county:
Preprimary Evaluation Team

Early On

WoodsEdge Learning Center

Valley Center School

Young Adult Program

Juvenile Home School

Programs for Students with Autism

Services for Students with Hearing Impairments

Services for Students with Visual Impairments

Collaborative Assistance through Technology Team

Planning, Monitoring and Data Collection