Return to Headlines
Paid Summer Work Opportunities for Youth: YOU Program Applications Open
If your child is between the ages of 14-24 years old this summer and a city of Kalamazoo resident, they could be getting paid to experience career exploration, professional development and hands-on internship experience this summer. The applications for Kalamazoo RESA YOU's three summer programs, MyCITY, MyCITY 2Gen and CareerNOW, are now open for a limited time!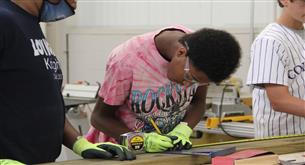 Young people who participate in YOU programs can benefit from opportunities for career pathway planning, hands-on project-based on learning, paid internships, networking, short-term training and credential opportunities and much more, all while getting paid.
MyCITY: Ages 14-21
The program runs from June 19 – August 4.
MyCITY is a summer youth employment program that serves as the gateway to paid internship and work experience. For just seven weeks this summer, you can get paid to explore as many career paths as you want, develop leadership skills, learn how to set goals and hold yourself accountable, and connect with employers in your community.
Career 101 (ages 14-15): Career exploration and pathway planning through hands-on work experience, project-based learning, academic opportunity exposure and career training.
Career 2.0 (ages 16-21): Gain real-world work experience through participation in internships with community employers, explore your current interests and take the next step toward your long-term career goals, plus training with our YOU staff.
Program eligibility includes:
Must be 14- to 21-years old as of June 20, 2023
City resident of Kalamazoo
Time commitment of 15-20 hours per week at $10.50 per hour
MyCITY 2Gen: Families
The program runs from June 13 – August 15.
MyCITY 2Gen is a paid career exploration and pathway planning program for Kalamazoo families. During this 9- week program, youth ages 14-17 and an adult in their household will explore their strengths, set goals, learn about opportunities in the community, and build a network of support with other families.
Program eligibility includes:
Youth 14-17 and an adult in the household
City of Kalamazoo Resident
Able to commit to the 9 program sessions + orientation
Able to commit 2-3 hours per week
Monetary stipend awarded at completion of the program
CareerNOW: Ages 18-24
Start dates vary by training type.
CareerNOW is a free, hands-on, short-term career training program open to individuals in Kalamazoo County who are interested in obtaining an industry-recognized credential. The certification programs through CareerNOW are all state- and nationally- recognized certifications/credentials. Training programs are selected based on participant interest and industry demand.
Examples of short-term training programs include:
Certified Nurse Assistant (CNA)
Phlebotomy
Patient Care Aide (PCA)
Emergency Medical Technician (EMT)
Welding/Skilled Trades
Early Childhood Education
Pre-Apprenticeships/Apprenticeships
To learn more about the KRESA YOU programs being offered to young people this summer or submit an application, visit https://bit.ly/m/you-kresa or email you@kresa.org for more information.