Return to Headlines
New Administrator: Transparency, Continuous Improvement Keep Schools Operating Safely
Garrett Meade's career in education started in 2007 in an industrial arts classroom at Lawton Community Schools. There, he realized early on how students' success in school is affected by dozens of factors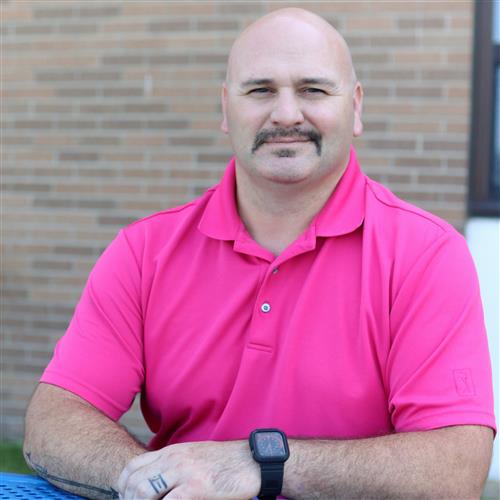 unrelated to the educational process happening in their classrooms. Fast-forward to July 2022, and now Meade is taking his knowledge and experience and putting them to work as Kalamazoo RESA's newest Administrator of Operations, Facilities and School Safety.
Meade's interest in building operations and school safety grew as his career progressed. After teaching in Lawton from 2007-2011, he moved to Parchment School District, where he served as an industrial arts teacher, athletic director and project manager. In December 2011, he started working on his master's degree in school administration. For his final project, he created a crisis response manual and implemented a safety team at his district.
"I realized how passionate I felt about school safety," Meade said. "I started to think more about, 'What is this kid going through?' Because when kids feel safe at school, their emotional health is better and they are less likely to engage in risky behaviors," he said.
Since joining KRESA this summer, Meade has been immersed in the new Career and Technical Education (CTE) career center project. His goal is to ensure the new center is a safe and accessible space for all students.
"When students have less to worry about, they can focus on what's happening in the classroom," he said.
Meade, who lives in Climax with his wife, Jocelyn, has three adult sons, a 12-year-old daughter and a new granddaughter. He and Jocelyn are currently training a future therapy dog, Hank. The six-month-old black lab is no stranger to a hard day's work at KRESA, either. Meade often brings him to the office.
"I'm hoping he will be able to visit some of our programs soon," Meade said.
Meade is also auditing each KRESA building and its safety needs. He's been meeting with various stakeholder groups to determine their concerns and where improvements can be made.
"We're in a good place now, but safety is a continuous process," he said. "We want to be proactive." He wants KRESA parents and employees to feel heard when it comes to safety. Transparency is important to maintaining good relationships, said Meade.
The new administrator is also part of a countywide safety team that meets regularly to plan for emergencies. "Communication is important during an emergency. All the local agencies and stakeholders need to be on the same page in the event something happens."
Meade's job also requires him to stay on top of safety trends. He monitors best practices to determine what KRESA can do to remain up-to-date. This includes school safety, as well as day-to-day building operations.
"Our team has to keep the lights on, the water running, so kids can learn," he said. One way he's improving everyday maintenance needs is with the implementation of a new work order request system, FMX. The new web-based system will allow employees to receive timely updates to their maintenance requests and provides employees with a platform to communicate more easily with the maintenance team. Meade hopes to roll out FMX in mid-October, he said.
It is no small task to keep up with the operation and safety needs of an agency that employs almost 700 people all over Kalamazoo County, Meade said. But the work is fulfilling.
"The support of this community has been amazing," he said. "I've never experienced such a collaborative culture like KRESA."