Return to Headlines
Superintendents' Joint Statement on the Increase in COVID-19 Cases
October 28, 2020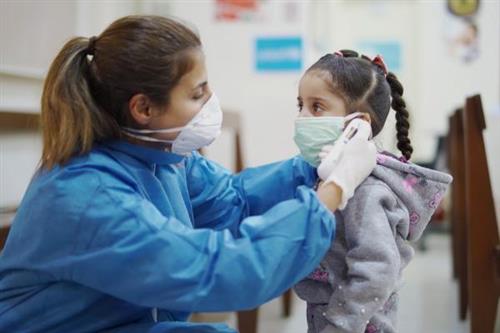 To the families of Kalamazoo County,
As you may know, in recent weeks, our local public health experts have been reporting a steep increase in COVID-19 cases across our region. Many schools have enacted safety protocols, and so far, these measures have been quite effective in mitigating the virus' spread. Your attention and cooperation throughout this pandemic have been critical to that success, and we couldn't be more thankful.
Safety measures in schools and other controlled environments alone will not be enough to prevent the accelerating spread of COVID-19. Health officials report that the recent rise in coronavirus cases is primarily due to a lack of safe practices in social settings. They are also warning if conditions continue to deteriorate across the county, they may be forced to require schools to implement more stringent mitigation strategies, such as canceling extracurricular activities, including athletics, and moving to fully remote instruction.
We are asking everyone to help stop the spread of COVID-19. Our ability to offer or continue to offer face-to-face learning is dependent on how well we, as a broader community, carefully adhere to safety guidelines in our day-to-day lives.
After months of fighting this virus, we now know which methods are effective against its spread. Preventative measures like facial coverings, social distancing to the extent possible and consistent handwashing have been proven to prevent additional cases. Please continue to monitor your children for symptoms - keep them home when any are consistent with COVID-19. Please refer to the Kalamazoo County Department of Health's guidelines for detailed information on symptoms and proven methods that protect yourself and those around you.
The health and safety of our students, families, staff and communities will always be our top priority. Schools are vital in meeting students' academic, social, emotional and physical well-being; and with your cooperation, we will continue to do everything we can to offer as many educational options as possible to those we serve.
Thank you again for your support and careful attention to protocol.
Together, we can keep our communities as safe as possible.
- Mr. Doug Newington, Superintendent, Climax-Scotts Community Schools
- Dr. Jeffrey Thoenes, Superintendent, Comstock Public Schools
- Ms. Wendy Maynard-Somers, Superintendent, Galesburg-Augusta Community Schools
- Mr. Raphael Rittenhouse, Superintendent, Gull Lake Community Schools
- Dr. Rita Raichoudhuri, Superintendent, Kalamazoo Public Schools
- Mr. Dave Campbell, Superintendent, Kalamazoo RESA
- Dr. Wayne "Rusty" Stitt, Superintendent, Schoolcraft Community Schools
- Mr. Jason Misner, Superintendent, Parchment School District
- Mr. Mark Bielang, Superintendent, Portage Public Schools
- Mr. Keevin O'Neill Superintendent, Vicksburg Community Schools