Return to Headlines
Community Rallies to Create 1,000 Clear Masks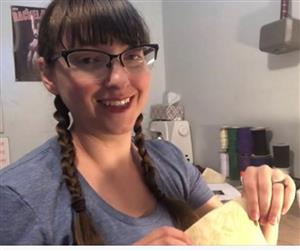 August 11, 2020
Masks are critical to stopping the spread of coronavirus, but they pose a major challenge for deaf or hard-of-hearing people, who rely on being able to see a person's whole face to communicate.
Kalamazoo RESA audiologist Nancy Gallihugh (pictured at upper right) and human resources assistant Kalee Paul knew using transparent masks instead could help keep communication lines open with KRESA's more than 100 deaf and hard of hearing students. After brainstorming with her colleagues Suzie Juip and Robyn Hill, Gallihugh concluded they needed to come up with 1,000 reusable clear masks for deaf and hard-of-hearing students and the staff that work with them. But where were they going to be able to get these masks?
They searched for commercially available clear masks, but unfortunately, they were back-ordered for months, well into the fall. On top of their lack of availability, the number of transparent, disposable masks needed would be impossible to afford, racking up over $10,000 a month in estimated costs.
Gallihugh expressed her frustrations to teacher Kat Frink (pictured at lower right) at Portage Central High School, dismayed that there were such seemingly insurmountable obstacles. An incredible journey began to unfold when Frink offered to connect Gallihugh with two crafting clubs she had joined earlier in the year.
Community members, from Crafters Combatting COVID and the Southwest Michigan Protective Gear Project, jumped at the chance to create 1,000 clear, reusable masks. Frink coordinated the project and recruited sewers, giving them easy-to-follow written instructions and video tutorials, along with supply kits with laser-cut mask materials.
Volunteers from all over Southwest Michigan immediately got to work, and before they knew it, Frink and Gallihugh were driving to pick up hundreds of finished masks everywhere from Battle Creek to Paw Paw to Grand Rapids. The last of the 1,000 masks were completed this week, in time to be distributed for the school year.
In a time where it seems like everyone is drained from day-to-day life during a pandemic, most of the time, even doing the bare minimum can feel exhausting. With this project, the whole community came together and put an incredible amount of effort – and so much love – into these masks.
The effort doesn't stop there, though. Gallihugh and her colleagues are working to ensure both virtual and in-person learning are optimized for deaf and hard-of-hearing students.
"Remote learning is difficult for students with hearing loss for a number of reasons," she said. "Kids, in general, are not used to learning in front of a screen for seven hours a day, and our students specifically are limited by lack of visual and environmental cues."
Gallihugh works with Juip and Hill on a committee for all the school districts in the KRESA service area to ensure videos are captioned completely and correctly. Videos and live streams not only need to be optimized for captioning but also need to be well lit and free of background noise. She has also created a Google site with resources for teachers, coaching them on remote student learning.
"We want our students to have every opportunity to equal access to education," Gallihugh said.