Return to Headlines
YOU Director Baton Passed to Paige Farrell
5/27/20
Welcome to Paige Farrell, who was named the successor after former director Eric Stewart announced his transition to his new as Assistant Superintendent of Career and Talent Development.
Farrell joined the YOU family in 2017 as a career coach for youth. Her strong leadership qualities driving her forward, Farrell soared through differing roles at an impressive pace. She transitioned from career coaching to narrow her focus on YOU's MyCITY summer youth employment program, moved on to project manager, transitioned to a coordinator role overseeing youth services and, most recently, was elevated to administrator of youth services.
And all this growth in just three years.
Stewart is incredibly confident in Farrell and the possibilities she brings to the community.
"Paige has a strategic mind that provides her the ability to digest complex federal and state policies and turn them into incredible services for youth and adults alike," Stewart said. "She leads with heart and is well-respected in the communities YOU serves. She is an innovative thinker and embraces change, which is critical at YOU. I am excited about the positive impact Paige can have on YOU's culture."
That strategic mind and innovation are most evident when looking at the MyCITY summer youth employment program. Farrell spearheaded the summer program for the past two years, which led to measurable growth, as well as recognition as the 2019 National Association for Workforce Development Professionals' Youth Program of the Year.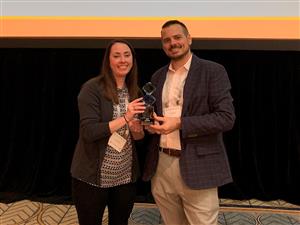 Farrell's strong advocation for the people YOU serves holds substantial promise for the community. She is passionate about being part of an organization dedicated to creating opportunities and programming so individuals can not only envision what's possible for their lives but also understand the steps necessary to make that dream their reality. That passion will continue leading her as the new director.
"Whether it's a young person wanting to reconnect with education, someone in the middle of a career change trying to connect with job or training opportunities, or someone in need of support to take their next step, I want them to know we're the place to go," Farrell said. "I want to continue to strengthen our partnerships with community organizations to ensure that we're working together to serve our communities the best way possible."
Stewart and Farrell worked closely together at YOU and will continue to do so as they dive into their new Kalamazoo RESA roles. Stewart says he will work with YOU leadership to continue strengthening the program.
"At a moment in time where Kalamazoo County is undergoing a pretty substantial change to the way we prepare our youth for careers, I expect to work closely with Paige and YOU on strategies to connect with CTE," Stewart said. "I am beyond excited to watch the region we serve continue to embrace YOU."
The director baton was officially passed to Farrell May 25, and in these tumultuous times, she has hit the ground running.
"I am so grateful for and motivated by each and every person I have the opportunity to work with at YOU," Farrell said. "Their compassion for the work we do is evident in their everyday interactions with our customers and participants as well as our YOU team."
Congratulations, Paige! We are all rooting for you.