Return to Headlines
May 14, 2020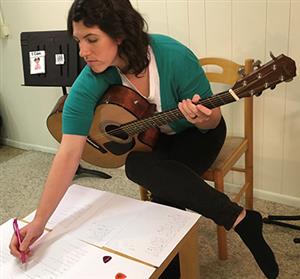 The global Coronavirus pandemic has changed how we do almost everything. It's required students and educators to radically adjust what learning looks like, which has proved uniquely challenging in special education.
"The voices that haven't really been listened to belong to kids with special needs and their families. For everybody this experience is hard, but for them, having to adapt to changes is ten times more challenging than students in general education," said Meghan Feeman, a music therapist at Kalamazoo RESA's WoodsEdge Learning Center.
WoodsEdge is a year-round school where there's never a break from in-person education for more than two weeks, so that students can consistently maintain their knowledge and skills. She and her colleagues have had to rapidly innovate to continue supporting students with disabilities while they can't attend school in person.
"It was a challenge at the beginning to adapt, because there were no handbooks or examples for how to successfully do this," said Feeman. "I remember feeling so desperate to try to help in person, and I couldn't because we all have to stay home. I knew families were struggling and I wanted to support them."
Based on teachers' requests and school-wide behavior goals, she uses music to help students develop skills like waiting, attention, emotion identification and communication. The delivery of that work had to evolve to safely give families much needed therapeutic assistance through remote technologies. She didn't know how challenging the technical side would be, or how effective remote music therapy would be, but she moved forward.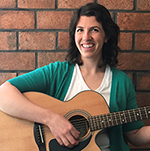 She brainstormed and problem-solved with colleagues who teach art and physical education, who could readily relate to each other's experiences. They all struggled to figure out how to translate their in-person activities to accessible and user-friendly digital resources so that every single student ages five to eighteen can participate from home.
Feeman and her collaborators found that different strategies work for each of them. She landed on regularly uploading resources to a Google Drive folder, producing weekly videos and printable handouts for students and parents in both English and Spanish.
WoodsEdge's mission is to develop independence in their students, and developing remote therapy activities might feel a little like an independence trial by fire. She's been building her weekly content with familiar routines, mnemonics, phrases and songs that enable students to more easily engage on their own and practice their skills.
"Not all of our kids have hobbies or things they like to do at home, specifically things that they could do by themselves," she said. "Parents could put on a video and the kids could follow it. It looks like something we do at school, so it's designed to help them follow better. I slow down and speak less in general so they have more room for processing time."
Feeman's resources empower students to continue growing, practice skills independently and not backslide on their progress. Because they can do the activities alone, their parents have new opportunities to focus on different responsibilities like working from home or taking care of their other children.
Remote therapy has required much more communication with parents than has been normal in the past. Because of that, staff and teachers have developed stronger positive relationships with parents that will carry over into whatever the next new normal is when students can safely return to in-person education.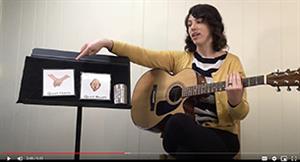 "The average parent doesn't get to see what music therapy looks like day-to-day, and because of this, they get to," Feeman said.
She hopes that these newly much more collaborative relationships will allow parents to feel freer to reach out for help when they need it and give teachers and staff a more real life understanding of how they can best support parents through the resources they offer.