Return to Headlines
Kalamazoo County Honors 33rd Annual Excellence in Education Scholarship Recipients
Kalamazoo County's outstanding high school seniors and their significant educators were recognized for their high academic achievements on Wednesday, April 17, at the 33rd annual Excellence in Education Awards Banquet.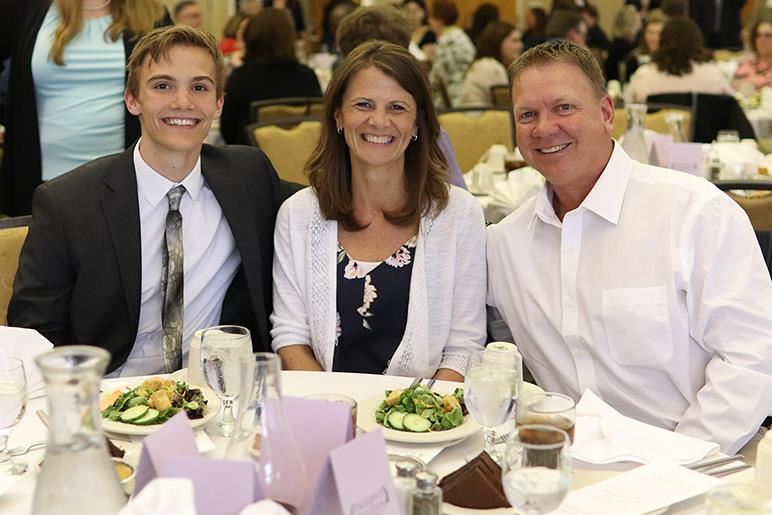 The 47 high school seniors were joined by their families, significant educators and local educational leaders to celebrate their outstanding academic achievements at Western Michigan University's Fetzer Center.
Over the course of its lifetime, the Excellence in Education endowment has awarded a total of $1,319,799 in scholarship funds to 1,802 outstanding high school seniors. Additionally, $578,791 in professional development grants have been awarded to 738 educators.
Keevin O'Neil, Chair of the Excellence in Education Steering Committee and Vicksburg Community Schools Superintendent, offered a few words of wisdom to the graduating class of 2019.
"You know that today's excellence can quickly become tomorrow's ordinary… Continuing excellence is marked by striving with passion, vision, preparation, courage, perseverance and integrity," advised O'Neil.
This year's esteemed guest speaker was Dr. L. Marshall Washington, President of Kalamazoo Valley Community College. Dr. Washington's remarks offered honest advice on the authentic and relentless pursuit of your dreams:
Be curious; Read books that make you think; Ask questions; Don't whine; Surround yourself with people who want to help you grow; Admit mistakes; Monitor progress; Live the life you imagine; Don't pretend like you know it all; Celebrate yourself and those who supported you along the way; Dream again.
"Don't doubt for a second that you have dreams worth pursuing," encouraged Dr. Washington.
O'Neil also asked those in attendance to recognize several retiring Excellence in Education Steering Committee members, including former Committee Chair Charles Glaes with 13 years of service, as well as Nancy Timmons and Mindi Miller who both served on the committee for four years.
The Excellence in Education program also awarded eight Educator Incentive Grants to provide funding for local teachers and administrators to explore new ideas to enhance their teaching styles, as well as to continue to motivate and inspire their students.
The Excellence in Education program is the result of vital collaboration among all Kalamazoo County public and non-public schools, local foundations, education groups and the business community.
"I hope that as you continue to strive for excellence, you frequently reflect upon and share your gratitude with those who have helped you," implored O'Neil.
View photos from the 33rd Annual Excellence in Education Awards Banquet on the Kalamazoo RESA Facebook page.
Congratulations to the 2019 Kalamazoo County Excellence in Education scholarship recipients:
Climax-Scotts High School
Jake Lane
Comstock High School
Audrey Rabick
Branden Willis
Galesburg-Augusta High School
Jonah Fleck
Gull Lake High School
Caleb Collard
Rylee Meints
MiaFlora Tucci
Justin Walker
Makenzie Wank
Hackett Catholic Prep
Molly Harding
Heritage Christian Academy
Austin Strahan
Kalamazoo Christian High School
Rachel Pease
Kalamazoo Central High School
Allie Al-Faraj
Hannah Glass-Chapman
Mei Lanting
Kevin Mehta
William Shaw
Suja Thakali
Loy Norrix High School
Tess Cowles
Carter Eisenbach
Robert Isacksen
Will Keller
Thomas Outinen
Christian Zehner
Parchment High School
Jordan Leh
Christina Miller
Portage Central High School
Caleb Crooks
Suyash Dixit
Jack Liu
Saaketh Medepalli
Owen Miller
Kaoru Murai
Hrishikesh Vaddineni
Portage Northern High School
Isaac Bagley
Carter Briggs
Emma Fischell
Nicholas Ghosh
Isaac Huffman
Sharon Shaw
Elizabeth Wang
Schoolcraft High School
Connor Nutt
Joshua Wujkowski
Vicksburg High School
Jacob Cleaver
Casey Hall
Madeline Ritter
Tyler Vallier