Return to Headlines
Interview with Jake Larson, Overneath Creative
Career Technical Education (CTE) provides students of all ages with the academic and technical skills, knowledge and training necessary to succeed in future careers. Our thanks to Jake Larson, Creative Editor, Overneath Creative, for telling us about his work in the video industry.
---
What are your job responsibilities?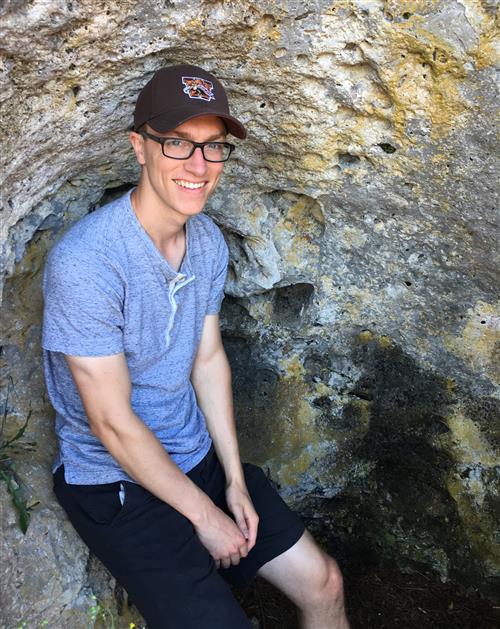 My typical day as a creative editor at Overneath entails seeing each of my assigned projects all the way through the post production process to the final deliverable. The number of projects I'm assigned to work on varies throughout the year, which keeps things interesting. During the slower season I may only work on one or two projects in a week and during busier times I may be jumping between half a dozen projects - all at different stages of the post production process - in a single day.
Each edit can be approached from many different angles. With editing, there's no single right answer, which can be liberating and also somewhat intimidating. Editing for a client means that, for the most part, you have a pretty good idea of what they're looking for, which helps when deciding how to tackle a new edit. When editing you need to have an open mind about your work and approach each project with a willingness to collaborate and accept advice and revision notes from coworkers and clients.
Staying organized is key to any editing job because you never know when you have to pass a half completed edit off to another editor when things get a little busy. While I'm editing, I make sure I follow an agreed upon workflow so that when I pass my projects off, the new editor knows exactly where every piece of the puzzle is located and can jump right in without missing a step. Developing and understanding workflows and organization methods is incredibly important if you want to be an efficient editor.
How did you begin your career?
My path to creative video editing started during my final semester at Western Michigan University. I was looking for internship opportunities in the area that involved video production in one way or another and I ended up taking an internship at Newschannel 3 in Kalamazoo. I spent much of my time following reporters to capture their various stories of the day and mostly shadowed videographers while they recorded each news piece in the morning and later edited the story to air on the evening news. During my time as an intern I was given opportunities to capture footage (I spent one very long and boring afternoon at the Kalamazoo County courthouse) and edited a few of the reporters' news packages. At the conclusion of my internship, a position for a part-time weekend video editor opened up and I was able to lock down a job right out of college.
News production was never the end goal for me, however, my weekend editing position further cemented my love of video editing, albeit in a very different format to which I was accustomed. News editing was classified by one of my coworkers as "assembly line" editing; just placing relevant news clips in a sequence in order to fill enough time for the anchors to read the stories. That doesn't mean all news editing is necessarily like this, but the bulk of the work I was given had the rule of: good or bad, it doesn't really matter as long as it airs on time (by the way, make it good if you can).
After two years of news editing, I was ready for more of a creative challenge. A close friend and coworker urged me to look into film production programs at a proper film school. I ended up at Vancouver Film School where I took my love of editing and chose post-production as one of my major areas of study.
What steps and/or skills would you recommend for students who want to work in your field?
To any student who has an interest in making a career of film production, I would firstly like to congratulate you on choosing a seriously cool career path. For real. I cannot count the number of times I've come home from work thinking: I can't believe they pay me to do this. I encourage you to enroll in any relevant Education for the Arts classes while in high school. The film classes I took during my junior and senior years helped to spark my passion for production and gave me a valuable early insight into the basics of working as a creative.
I encourage you to familiarize yourself with universities that offer well-rounded film production curriculum. Look up production companies in your area and ask them if you can schedule an informational interview to stop by and pick their brains about what they do. I know it can be a little intimidating to contact someone out of the blue and ask for their advice, but nine times out of ten they'll be more than happy to give you their two cents. (We're friendly, I promise!)
Lastly, I encourage you to create for the sake of creating. Not because it was assigned to you as homework, just because it's what you love to do. My all-time favorite projects that I've worked on in the past have been passion projects I made in my free time with my friends. If you don't have any fancy equipment, don't let that stop you. Use a smartphone (or your friend's smartphone if you don't have one) and get filming. It doesn't have to be a masterpiece, and it doesn't have to be incredibly long or say something profound, it's all about getting in the habit of exercising that creative side of your brain. And it's tons of fun to make ridiculous videos that you can share with your friends.
What do you like most about what you do?
I really love the variety of work I get to do on any given day. I'm never bored with my edits because there's always something fresh and different that allows me to change up my style or edit in new ways. When I have a tricky project it can sometimes be hard to get started or feel creative, but then I find some new technique or editing tool to add to my arsenal. I love doing what I do because I can actually look back on my past projects and see how I've changed and improved as an editor over the years.
If you could do it all over again, would you choose the same path for yourself, or if you would, is there anything you'd do differently?
The film production field is so fascinating because no two career paths in this field are identical. I've always had a passion for production work but didn't necessarily know my path would take me into creative editing until I was hired as a news editor and realized my love for post-production. And who knows? In a few years, maybe I'll be working in a more hands-on role of production. I studied cinematography while at film school too and also really enjoy working on set as an assistant director or script supervisor. My only regret is that I didn't study more in the visual effects field, because everyone uses visual effects now. Seriously, if you have any interest in visual effects, study that and you'll work forever.