Return to Headlines
Kalamazoo RESA's Eric Stewart is a member of a Michigan Works! Southwest winning team that was recognized for its work in a Department of Labor sponsored White House Customer Design Challenge.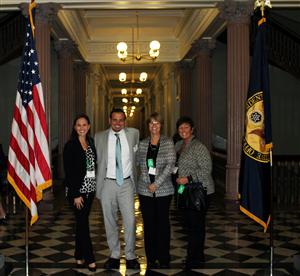 The winning teams were invited to the White House where they presented their findings and met with White House leaders and high-ranking officials from the Department of Labor.
Stewart, who is an administrator for the Youth Opportunities Unlimited (YOU) program, along with his team members Amy Meyers, Cheryl Beard, Jakki Bibb, Ben Damerow, Betsy Schiedel and Brenda Stewart, designed a concept to revolutionize customer experience at the Michigan Works! One-Stop Career Centers.
The goal of the challenge was to develop and implement a new design service that would utilize the input received from customers. The teams were then tasked with cultivating a prototype and testing new methodologies, as well as refining and updating the system over a two-month research period.
A unique element of the team's design was the utilization of a dedicated resource navigation professional that focused on meeting with all incoming customers and quickly diagnosed and remedied specific needs.
Stewart was thrilled about the trip to Washington D.C., as well as its potential impact with lawmakers.
"We were able to share our project's scope of work and impact with the people that actually designed the laws and policies that guided our programs. We learned a lot from them and they learned a lot from us. It was very humbling to have our work recognized through this challenge," said Stewart.
KRESA's YOU is a vital part of the Kalamazoo Regional Educational Service Agency, helping job seekers to find employment, complete their educations and thrive in the local area. The services provided by Youth Opportunities Unlimited have provided individuals with the opportunity to improve their communities through academic enrichment, workforce readiness and social skills development, while empowering them to become critical thinkers, problem solvers, graduates, and leaders.
Pictured left to right: Amy Meyers (Upjohn Institute), Stewart, Cheryl Beard (Upjohn Institute), and Jakki Bibb (Upjohn Institute). Other members not pictured: Ben Damerow (Upjohn Institute), Betsy Schiedel (Upjohn Institute) and Brenda Stewart (Michigan HRDI).