Return to Headlines
From Troubled Teen to Honored Alumni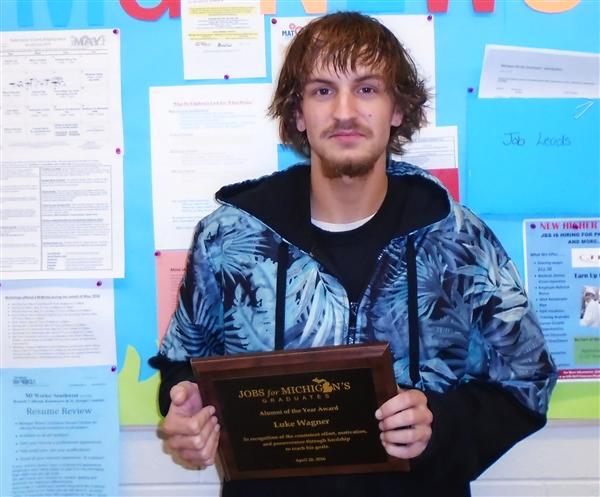 As the recipient of the Jobs for Michigan's Graduates (JMG) Alumni of the Year Award, Luke Wagner is an exemplary model of the adage, "hard work pays off." Wagner was recognized by JMG, which is part of the national Jobs for America's Graduates program that helps young people graduate and make successful transitions to postsecondary education or meaningful employment.

Wagner, who dropped out of high school during his sophomore year, was on probation when he enrolled in the Workforce Innovation and Opportunity Act (WIOA) Youth Services Program in October 2014. He knew it was time to make a real change, or face a troubled future.

Determined to turn his life around and committed to completing his high school education, Wagner enrolled in the GED program at Youth Opportunities Unlimited (YOU) through Kalamazoo Adult Education, and graduated less than six months later in early 2015.

"It has been a genuine joy to work with Luke over the past two years," said YOU Career Specialist Debra James. "He is diligent, hardworking and has been a positive influence on the other youth in the program."
Prior to graduating with his GED, Wagner had barely considered the possibility of attending college someday. Today, he is studying electronics at Kalamazoo Valley Community College (KVCC).
To prepare for employment, Wagner participated in JMG's Paid Work Experience Program and was placed at Goodwill Industries of Southwest Michigan where he was eventually hired on as a full-time employee.
Additionally, Wagner recently started a new job with Schupan and Sons and is hoping to become a permanent employee soon.
"There is no doubt that he will be successful in attaining any future goals he sets for himself," James said.
Kalamazoo RESA's YOU program helps to reconnect youth and young adults with education, training and employment in four counties. YOU provides participants with the opportunity to improve their communities through academic enrichment, workforce readiness and social skills development, while empowering them to become critical thinkers, problem solvers, graduates and leaders.