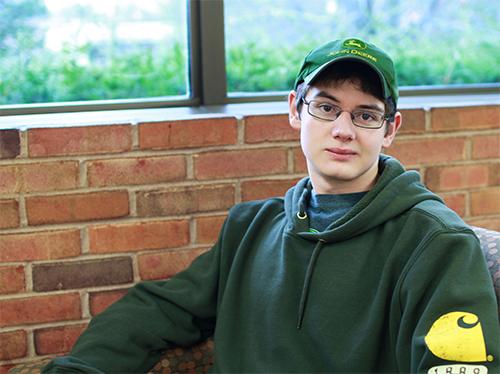 EFE puts student on the fast track
Mitch Taber earns certifications early; prepares for a promising future
"Welding is a career that can take you anywhere you want to go," said Mitch Taber of Kalamazoo. Taber, 19, will finish his welding certification program at Kalamazoo Valley Community College this spring. While most students his age are just beginning their search for a career, Taber is nearly finished with his post-secondary training.
He admits he's ahead of the pack.
"I came to the welding program at Valley with two certifications I'd already completed," he said. Taber, a 2015 graduate of Kalamazoo Central High School, was dual enrolled through Kalamazoo RESA's Education for Employment program, or EFE. While completing his high school diploma, Taber took classes in construction trades and welding, earning college credit and marketable job skills at the same time.
"I knew from a young age that I would never do a desk job," Taber said. "I decided to try construction trades and loved it," he said.
As a junior at Central, Taber's EFE class built the first five-star energy rated Habitat for Humanity home in Michigan. "I learned how to build a house from the ground up," he said. "Now I can do everything from pouring the foundation and rough framing to dry wall and finishing work."
Taber loved the hands-on training he received in EFE, and the confidence it helped him find. "It's pretty cool to drive by and say, 'Hey, look, I built that.'"
During his senior year, Taber continued on in the EFE construction trades program. An iron worker in the family inspired him to consider welding. So, he enrolled in the EFE welding program, too. "The job market is good, so I decided to try it," Taber said. "Now I know that learning welding allows you to learn to build anything."
As spring approaches, Taber is making plans for his future. He will consider joining the plumbers and pipefitters union once he completes his welding certification. He's already working as the lab tech in his welding class at KVCC. Taber is excited for his future, and thankful for the jumpstart he received through EFE in high school
"I have learned skills that will help me for the rest of my life," he said. "EFE allowed me to try new things and helped me decide what I want to do with my life. I will have a career I actually enjoy, and I will be successful."
Kalamazoo RESA's Education for Employment is an award-winning career and technical education program that provides real world training in more than 35 programs. Classes take place in high school buildings, on college campuses and at business and industry sites. To learn more about Education for Employment, and Kalamazoo RESA's related programs in Education for the Arts and Early/Middle College, parents and students in grades seven through 11 are invited to attend the newly revised Open House on Thursday, Feb. 11, from 5-8 p.m. at the Kalamazoo County Expo Center. The annual open house will include more than 50 business and industry representatives, EFE and EFA instructors who will be showcasing careers, as well as a special session highlighting Early/Middle College information. More information about the Open House is online here.