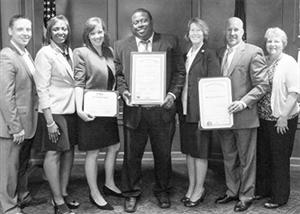 Kalamazoo area hiring and employment successes were among those celebrated recently by the Michigan Works! Association at the recent First Annual Prosperity Awards. Bronwyn Drost,
Y.O.U. Employment Services
, pictured third from left, was one of the award recipients. American Axle and Manufacturing Holdings in Three Rivers was recognized for their announcement last year of a new, $100 million investment in their Three Rivers facility and the promise of 500 new jobs for the region. Michigan Works! Kalamazoo & St. Joseph Counties has partnered with American Axle, Southwest Michigan First, the City of Kalamazoo and the Northside Ministerial Alliance on an "AAM Pilot Project" designed to connect skilled workers from diverse backgrounds with the company's need for skilled workers. In addition to the AAM Pilot Project, Michigan Works! Kalamazoo & St. Joseph created a customized approach to assist with the company's expansion, including a job fair that drew over 400 job seekers, and a space for the business to host pre-employment testing.
"The efforts of Michigan Works! Kalamazoo & St. Joseph Counties with American Axle illustrates the kind of success that's possible when we focus on the needs of employers with jobs to fill and matching them with skilled employees seeking work," said state Representative Matt Lori (R-Constantine). "Our state has added over 250,000 jobs in the last four years, and working in partnerships, we will ensure that Michigan's future is only going to get brighter."
Congratulations, Bronwyn!