Return to Headlines
Emergency Medical Technician (EMT) Students Save Life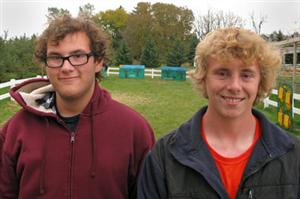 RICHLAND —
When teens Logan Connell and Jimmy Brand EMT arrived at work Wednesday afternoon, they were expecting a slow, easy day of helping kids play on the various attractions at
Gull Meadow Farms' Pumpkin Lane
.
They could never have imagined they would end up saving the life of one of the farm's patrons.

However, when 70-year-old Ralph Freds collapsed from a heart attack at 5 p.m., the two 17-year-olds sprang into action.

"We were working over by the zip cord when we heard people yelling and screaming," Connell said. "When Jimmy heard that someone was injured, he looked at me and said 'Logan, let's go.'"
Both CPR certified
Rushing nearly 50 yards across the lawn, the pair saw Freds sprawled near a tube slide, surrounded by his family, farm employees and other guests. The two teens, both of whom are CPR certified, quickly assessed the man's condition and began giving him chest compressions and rescue breathing. They alternated for about seven minutes until EMTs arrived and took over.



"It felt more like an hour," Connell said.
In good condition at Borgess

Freds was transported by ambulance to Borgess Medical Center. Hospital spokesman Lew Tysman said he was in good condition Friday afternoon.

"The Borgess staff told us that without the teenager's assistance, we would be planning a funeral right now," said Milissa Freds, the man's daughter.

The fact the two were working together at the same station when Freds collapsed, was fortunate, Connell said. Brand was originally given Wednesday off.

"It was kind of a fluke thing that they were both scheduled and working together," said Justin Wendzel, a manager at Gull Meadow Farms

The teen's quick actions belied their nerves, as the pair had never before performed CPR outside a classroom. Connell and Brand are aspiring medics, attending the basic EMT class at Kalamazoo Valley Community College.

"There's so much more at stake," Brand said. "If you screw up on a mannequin, nothing happens. If you screw up a person, they could die."
"I still see the image of him on the ground," Connell added.

Wendzel said the actions of his two employees were extemporary.

"The two gentlemen were flawless," Wendzel said. "I've heard nothing but good things from everyone who was around."

The following day, at about 3 p.m., eight members of Freds' family visited the teens at the farm, thanking them for saving his life.

"They were not embarrassed, but very humble." Milissa Freds said. "I don't think they expected our entire family to be out there."

Freds wants to meet with his two rescuers when he is released from the hospital, his daughter added.

Both teens said they were overwhelmed by the family's appreciation for their actions.

"There wasn't anything you could say," Connell said. "You could tell by the looks and tears in their eyes how they felt."

The experience of saving a person's life has given the budding medics a new perspective, they said.

"Class felt a little differently today than it has in the past," Brand said Saturday. "That mannequin looked a little more real."
Contact Ted Yoakum at tyoakum@kalamazoogazette.com