Return to Headlines
Kalamazoo RESA Honors Outstanding Seniors in Its High School Programs
Kalamazoo RESA honored 76 Kalamazoo County high school seniors at the 36th annual Outstanding Senior Awards Breakfast on Thursday, May 5, 2022, at the Radisson Plaza Hotel in Kalamazoo, Michigan.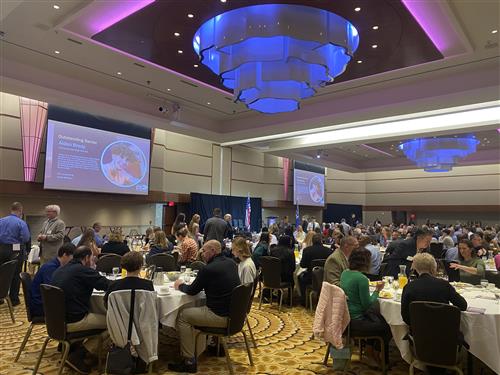 Outstanding Seniors, who were nominated for this honor by their teachers, were recognized for their academic achievements in their respective programs, including Kalamazoo RESA's Career and Technical Education (CTE), Education for the Arts (EFA) and Early/Middle College (EMC) programs.
Career & Technical Education (CTE) equips students with the academic and technical skills, knowledge and hands-on training necessary to succeed in well-paying, high-demand careers.
Education for the Arts (EFA) strives to enhance arts education for all students in Kalamazoo County, making dance, music, theater, literary, media and visual arts an essential part of a comprehensive education.
Early/Middle College (EMC) is an innovative program that gives students the opportunity to earn an associate degree or certificate with an additional year of high school.
CTE, EFA and EMC consist of approximately 3,000 students across Kalamazoo County from more than 30 high school programs.
The audience also listened to inspirational speeches given by former alumni of the CTE and EFA programs. The Outstanding Senior Address guest speakers included former EFA student Maximilian Clark, now a Lead Producer at Walter Masterson Productions, and former CTE student Chase Stenger, who currently works as a Machine Repair Apprentice at Pfizer.
"This year marks the 36th annual event where we gather to celebrate outstanding academic achievements and award students with scholarships provided by our generous donors," said Cameron Buck, Executive Director of Career & Technical Education at Kalamazoo RESA. "To be honored as an outstanding senior is an incredible accomplishment and these students, families and educators should be proud of this esteemed recognition."
According to Buck, the Outstanding Senior Awards is a collaborative effort between many partners, including public and non-public school districts, Kalamazoo RESA, Kalamazoo Valley Community College, Western Michigan University and multiple local businesses.
The graduating high school seniors worked diligently in the classroom, as well as the local community, and were rewarded for their efforts. In addition to being publicly recognized for their outstanding performance, college scholarship recipients were also announced at the event.
KALAMAZOO RESA'S 2022 OUTSTANDING SENIOR AWARDS RECIPIENTS
Climax-Scotts High School

Aiden Brady - CTE Accounting
Kyle Mleczewski - CTE Information Technology

Comstock High School

Drew Hattan - CTE Construction Trades
Harleigh Martin - CTE Culinary Arts

Galesburg-Augusta High School

McKenzie Griffith - CTE Business Management Administration
Ryan McCallum - CTE Construction Trades
Josephine Wagar - CTE Horticulture

Gull Lake High School

Mason Fisher - CTE Cybersecurity
Madelyn Howes - CTE Teacher Academy
Lauren Leineke - CTE Business Management
Administration
Luke Marchand - CTE Computer Science
Cameron Perkins - CTE Computer Science
Emma Ried - CTE Culinary Arts
Johanna VanLandegent - CTE Accounting and Finance
Anna Wozniak - CTE Business Management
Administration

Gull Lake Virtual Partnership

Piper Thomas - CTE Professional Health Science

Hackett Catholic Central

Cara McGroarty - CTE Veterinary Science

Kalamazoo Central High School

Kevin Barbosa-Camacho - CTE Marketing
Cooper Betke - CTE Teacher Academy
Darianna Browning - EFA Intermediate Dance
Abraham Burcroff - CTE Electronics & Robotics
Heaven Campbell - CTE Art & Design Career Skills
Le'Montae Daniels-Thompson - CTE Marketing
Asiya Diallo - CTE Cosmetology
Thomas Dillard IV - CTE Accounting & BMA
Reagan Gates - CTE Fundamentals of Health Science
Cooper Gheen - CTE Information Technology III and CTE Work-Based Learning
Nick Gleaton - CTE Electronics & Robotics II
Ivory Gray - CTE Computerized Manufacturing
Cassandra Nash - CTE Electronics & Robotics
Xavier Plair - CTE Cosmetology
Andrew Taylor - CTE Marketing
Delaney Thomas - CTE Barbering

Loy Norrix High School

Tyler Roberts - CTE Business Management
Administration
Erica Sanchez-Elias - CTE Health Science
Ryan Schnurr - CTE Law Enforcement II
Zoie Vorva - CTE Art & Design Career Skills
Chanel Wilson - CTE Business Management
Administration

Parchment High School

Bailey Hamblin - CTE Business Management
Administration

Portage Central High School

Meaghan Baker - CTE AP Computer Science Principles
Araba Banson - CTE Dental Assisting
MacKenzie Divan - CTE Marketing
Madeline Ehler - CTE Conservation Biology
Carter Horton - CTE Automotive Technology
Lauren King - CTE Marketing
Hannah Longcore - CTE Conservation Biology
Amelia Nickel - CTE Marketing and
Accounting & Finance
Lauren Rolfsen - CTE Health Science
Carson Vance - CTE Accounting
Aaron Vazquez - CTE Entrepreneurship
Michaela Wilkerson - CTE Teacher Academy
Kenzi Zimmerman-Frost - CTE Health Science

Portage Northern High School

Kayce Chapman - CTE Accounting
Dawson Gaynor - CTE Aviation Technology II
Colin Gibson - CTE Accounting & Finance
Drew Hovestadt - CTE Advance Marketing
Syerra Metzler - CTE Information Technology
Charlotte Murray - CTE Advanced Marketing
Abigail Placido - CTE Electrical Technology
Faye Scott-Farnsworth - CTE Professional Health Science
Vikas Tatineni - CTE Advanced Marketing
Alissa Teall - CTE Advanced Accounting & Finance
Romina Viramontes-Vargas - CTE Veterinary Science
Ashley Woytal - EFA Musical Theatre
Ayden Zonts - CTE Welding

Schoolcraft High School

Sydney Hamelink - Early/Middle College
Dru Matheny - Early/Middle College
Audrey Nadrasik - EFA 2D-3D Art

Vicksburg High School

Karsen Brown - CTE Accounting
Maci Crabtree - CTE Law Enforcement ll
Kieran Garrison - CTE Work-Based Learning
Haylee Goodall - CTE Computerized Manufacturing and Mechatronics
Kayla Miller - CTE Law Enforcement II
Isabella Pence - CTE Wildlife & Natural Resources
Maddox Porter - CTE Personal Finance and Marketing
Samuel Schnepp - CTE Computerized Manufacturing II
OUTSTANDING SENIOR AWARDS DONORS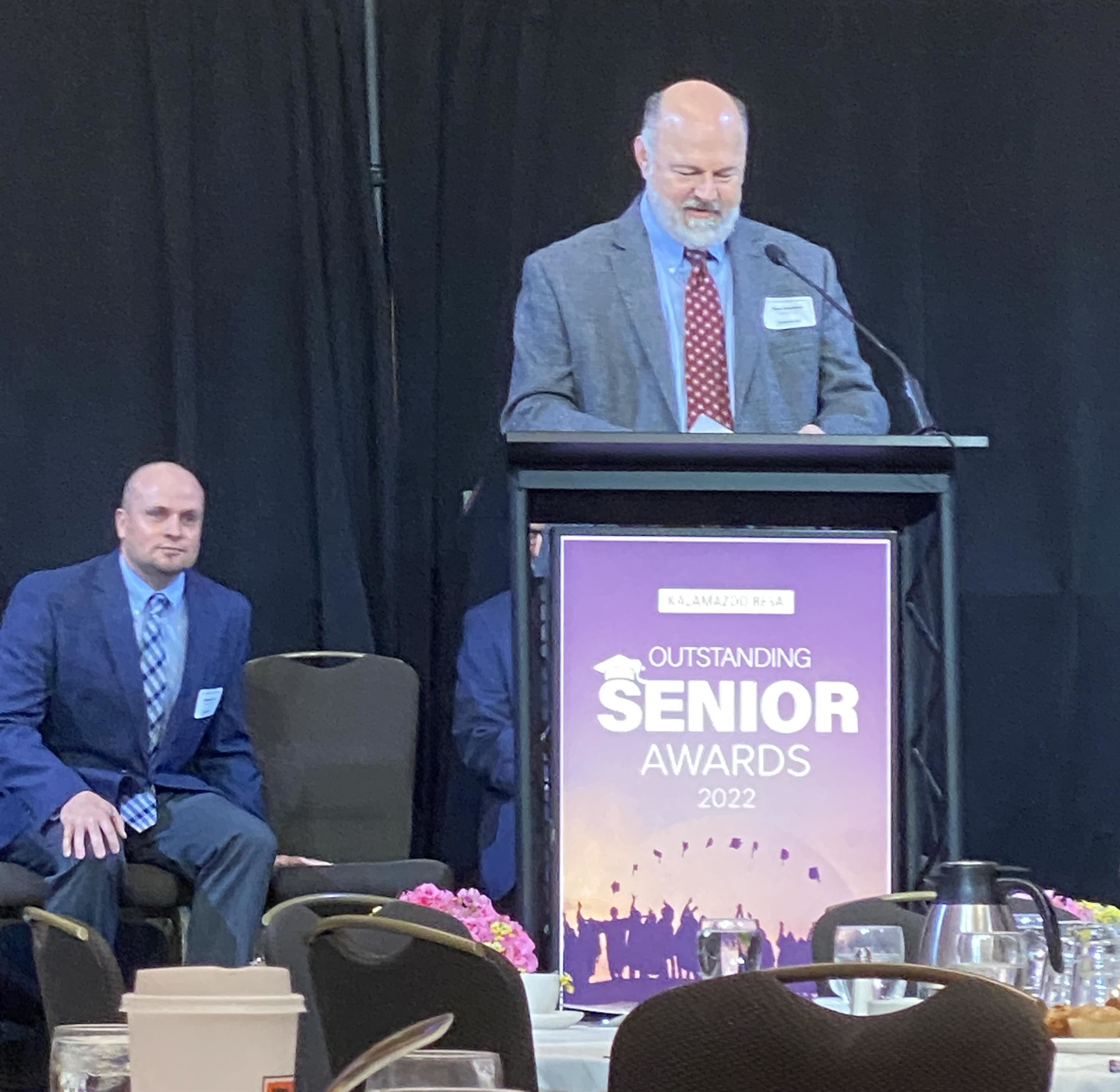 Scholarship & World of Work Donors
Alpha, Delta, Kappa
AVB, Inc.
Burdick Thorne Foundation
Don and Ann Parfet
Global Clinical Connections
Jack and Sue Martin
Kalamazoo Area Retired School Personnel
Kalamazoo New Car Dealers Assoc.
Kalamazoo Rotary Club
Kalamazoo Valley Community College
OnStaff, USA
Portage Education Foundation
World of Work, Barbara Ann Page

Kalamazoo RESA Foundation Donors
Barbara Hawthorne Memorial
Bronson Methodist Hospital & Kalamazoo RESA Gayl F. Werme Memorial
Burdick-Thorne Foundation
Dr. Robert & Ruth VanderRoest
Dr. W. Craig & Diane Misner
Eaton Corporation
Education for Employment Retired Staff
Fabri-Kal Foundation
Gary Rice Memorial
Home Builders Association of Western Michigan
Irv & Alberta Cumming
Irving S. Gilmore Foundation
Jack and Sue Martin
Jeanne Webster Memorial
Kalamazoo RESA Board of Education
Larry & Rose Wile
Miller-Davis Company
Nate Pollard Memorial
Paul & Betts Wollam/Stephanie Jo Harris Memorial
Robert C. Thompson Memorial
Sergeant Lisa Zuk Memorial
Stairway to a Career
Tammi Mallos Memorial
Tele-City Information Highway
Tom & Marsha Conor
W. Jack & Dr. Nanette Keiser
Walter B. Forbes Aviation