Return to Headlines
High School Students in KRESA's Early/Middle College Program Kick Off 8th Year of Program at KVCC
9/15/2022
Recently, over 350 11th- and 12th-grade high school students who are participating in the Kalamazoo RESA (KRESA) Early/Middle College (EMC) and the Gull Lake Early College (GLEC) programs attended three days of preparation events at Kalamazoo Valley Community College (KVCC). The events included campus tours, getting their college I.D.s, meeting their mentors, hearing from former program graduates, and receiving valuable tips for success from EMC staff and guest speakers.
The EMC program began at KRESA in 2015, and is an innovative early college program, which gives students the opportunity to earn an associate degree or certificate with an additional year of high school. Throughout their educational plan, EMC students are gradually introduced to college courses over a five-year span with the ninth-grade year being comprised solely of traditional high school classes.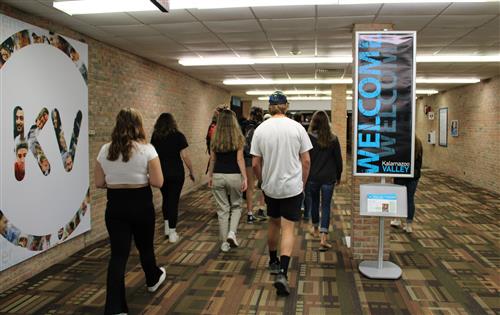 The EMC Kickoff event is meant to familiarize first-year participants with what the program entails, with a second day, referred to as the EMC Refresh, dedicated to returning EMC students to re-acquaint them with the curricula and help prepare them for the completion of the program. New this year, a third event was added, which was an extra opportunity for students to tour the KVCC Arcadia Commons campus in downtown Kalamazoo, MI.
According to Lisa Bartell, Early/Middle College Program Coordinator at KRESA, the goal of the events is to help students feel more comfortable on the KVCC campus, know how to access supports, get to know their mentors and peers in the program, and answer any questions they may have.
"The EMC Kickoff and Refresh are events I really look forward to each year," said Bartell. "Being back on the KVCC campus with students, preparing them for a new year in the program, is an exciting time. We host these events to bring all the students in a cohort together and provide information and resources that will help in their success in the upcoming school year."
At the start of the Kickoff, first-year participants were offered a grab-and-go breakfast while filing into the auditorium ahead of a full morning of presentations and guest speakers. The event began with a "What Is Your Color?" activity in which students chose answers that best described their characteristics in order to discover which "color" or set of traits was the most dominant. The introductory activity was used to show that students all have different strengths and weaknesses, and how that information can be used to help guide their educational and career paths.
During the presentations, students received technology tips, online resources, and learned about everything from the basics of how to sign into their new KVCC email, obtaining a loaner laptop, accessing the virtual desktop, and where to find further resources and help if needed. Additionally, student resources such as supplementary food assistance were discussed by KVCC staff Ezra Bell and Sabrina Kooy.
Attendees also heard from former EMC program graduates who were part of a guest speaker panel, including Kyla Owens (Comstock), Layla Roberts (Kalamazoo Central) and Gull Lake Early College (GLEC) Program students Haven Daudert, Lauren Meade and Ty TerAvest.
The group of student panelists spoke to the audience about their own experiences in the EMC Program, such as what they enjoyed most, what they wish they had known when they first began, and the positive impact that their mentors had on their success. They also answered student questions and offered advice on how to be effective college students such as being focused, organized, and self-motivated. Panelists gave personal examples of how college-level classes and professors may differ from high school experiences.
Afterwards, students took a guided tour of the KVCC Texas Township campus, got their pictures taken and received their new college I.D.s, had lunch in the cafeteria, and took group photos to commemorate the day. A unique aspect of the EMC program is that each student is assigned an EMC mentor to help support them through the entire process. Students were introduced to their mentors during the event.
Later, the students broke into groups and took a more in-depth assessment called the CliftonStrengths Assessment, which was created by educational psychologist Donald Clifton. Unlike a personality test, the assessment is a performance-based tool to help students understand their innate skills. A large part of the EMC program is capitalizing on a student's strengths and interests, to ensure their educational success as well as get them on the most well-suited career path, which is what the assessment results are used to assist with.
The second-day event, referred to as the EMC Refresh, was dedicated to returning students to reintroduce them to the program. Presentations revolved around what comes next, such as job searching, interviews and resumes. Speakers for this group included Lori Pelton and Scott Wills from KRESA's Work-Based Learning Program, who provided information about internships, job shadowing, and gave pointers on how to write an effective and professional job inquiry email.
The audience also had the opportunity to hear from a guest industry panel from various local businesses. Industry panelists included Mary McConnell, Workforce Coordinator, KVCC; Jennifer Smith, SPHR, SHRM-SCP, Human Resources Manager, Consumers Credit Union; and Hannah Wrench, Talent & Project Specialist, Landscape Forms, Inc.
The industry guest speakers provided advice on job searches, building resumes, and current employment trends and considerations such as cautioning students to be mindful of their social media presence and how it can positively or negatively affect future job opportunities.
A third and final event was added to the calendar for the first time in the events lineup, which included a tour of the KVCC Arcadia Commons Campus in downtown Kalamazoo. The tour was led by Dr. Deborah Coates, KVCC Dean of Instruction for Early/Middle College, and included Anna Whitten Hall and the Center for New Media to help those students who were registered for classes in that location to become more familiar with their surroundings.
For more information on the Early/Middle College (EMC) Program, visit Early/Middle College / Overview (kresa.org)