Return to Headlines
KRESA Breaks Ground On World-Class Career Center
Hundreds gathered at 3500 Vanrick Drive in Kalamazoo on Friday, Sept.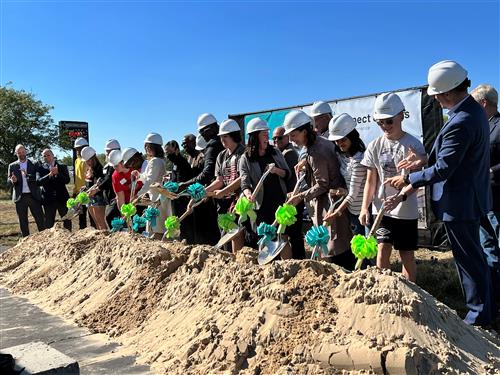 30, to kick off the construction of Kalamazoo RESA's world-class career center. At the celebration, the center's name was announced. The new facility will be known as the Kalamazoo RESA Career Connect Campus.
"Today's groundbreaking represents so much - change, progress, growth, possibility, and hope," said Eric Stewart, Assistant Superintendent for Career and Talent Development. "The number of young people this building will impact over the coming decades is staggering to think about. Its arrival will mark the beginning of true world-class CTE in Kalamazoo."
The centrally located career center will be built on a parcel of donated land located near I-94 and Sprinkle Road, adjacent to Wings Event Center. Construction is expected to be completed by the fall of 2024. The Career Connect Campus will house Kalamazoo County's career and technical education (CTE) programs, providing world-class training for all students. Students will access the site via a countywide transportation system. Its central location close to the interstate and near the County's industrial base means it will be a visible reminder of the community's values and a beacon of hope, Stewart said.
"It will be the home of life-changing work for so many who need the hope that this place will inspire."
Courses at the campus will offer specific skills training and certifications for high school students interested in high-demand, high-wage careers based on state and local market analysis and input from business and industry representatives, educators and community partners.
"For our students to graduate fully ready for the future, they will need a world-class education that equips them with in-demand skills, industry-recognized credentials, and experiences that lead to successful employment," said KRESA Interim Superintendent Tom Zahrt. "It's exciting to be able to bring educators, industry, and community partners together to design a world-class system that will promote cross-sector cooperation and include historically non-traditional students, leading to a brighter future for our community."
The construction of the new campus is a part of KRESA's redesign of the County's existing CTE system. KRESA currently offers a continuum of career and technical education programs that help young people see what they can be in the future, develop skills to succeed in the world of work, and get connected to opportunities to learn and earn industry-recognized credentials. Its programming extends from K-12+ supports in Career Awareness & Exploration to adult employment services as a service provider of Michigan Works! Southwest. In redesigning the countywide system, KRESA is committed to bringing world-class CTE to every student in the county.
For more on the Career Connect Campus, visit www.kresa.org/careerconnect