Return to Headlines
Making Good on the Promise of "CTE for ALL"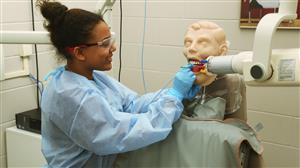 Since 1976, February has been recognized as Black History Month, a time to reflect upon and celebrate the contributions and history of Black Americans. In much more recent years, February has also been designated as Career & Technical Education (CTE) Month, when opportunities to learn about career training and critical professional skills are recognized.
While these two celebrations are distinctly separate, they do present an opportunity to explore the way in which they are connected.
As Kalamazoo RESA (KRESA) continues to redesign a world-class system of CTE for all students, increasing equity for underrepresented and marginalized student populations has been at the heart of the project since day-one. KRESA CTE understands it is critical we acknowledge – and learn from – the history of CTE, previously known as vocational education, specifically its impact on the Black community.
A History of Inequity
In the early 20th Century prominent Black voices Booker T. Washington and W.E.B. Dubois publicly disagreed on the role of vocational education in the advancement of Black Americans, during what is now known as the "Great Debate."
Washington argued that vocational education was the pathway to economic independence and mobility. Alternatively, Dubois asserted that a vocational education created the means of making the Black community assimilate and further attempted to keep them in their "proper place."
Dubois was convinced that Washington did not fully understand the effects of the Industrial Revolution, as many of the occupations that Washington encouraged Black people to pursue were quickly becoming irrelevant. Dubois was concerned that funneling Black Americans into a vocational education would limit them from becoming fully independent and emancipated people, rather than a servant class to White people.
Regrettably, the disproportionate vocational training between the Black and White communities only further segregated the educational and professional opportunities, which has continued for decades, thereby resulting in the historic exclusion of Black Americans from jobs that were considered to be of a higher status.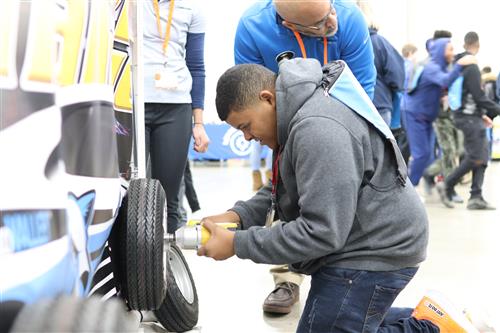 While Washington and Dubois disagreed on the path forward, both esteemed scholars essentially sought the same thing: socioeconomic equality and greater opportunity for Black Americans. Today, the question of whether it is better to pursue a more career-focused education as opposed to a liberal arts education persists, but it doesn't have to be either/or. In fact, for our region's youth to be prepared for a successful future, they must be well-rounded and equipped with the academic, technical and 21st Century skills critical for success in today's competitive and evolving economy, including self-management, communication, problem solving, critical thinking and collaboration.
"Our understanding of the 'Great Debate' supports our commitment to serving all students in our county," explained Cameron Buck, KRESA Career & Technical Education director. "The labor market studies, employer surveys, and employer focus groups all paint the picture that successful and equitable CTE provides the necessary skills to thrive in well-paying and high-demand occupations. We do not exist to track students who are not college bound into low-skill and low-paying careers."
The "Great Debate" may have taken place over a hundred years ago, but it's influence remains. A 2020 briefing from the Hechinger Report identifies "deep racial disparities" in CTE:
Black and Latinx students were often less likely than their white peers to enroll in science, technology, engineering and math (STEM) and information technology classes, according to analysis, which was based primarily on 2017-18 data. Meanwhile, they were more likely to enroll in courses in hospitality and, in the case of Black students in particular, human services.
The report goes on to identify several reasons for this gap, citing that Black and Latinx students are often steered to enroll in other programs, and STEM and IT courses are less available in the schools these students attend. Another reason cited by the report's authors was young students of color may choose courses that prepare them for careers in fields such as culinary arts because "those professions are familiar and employ people who look like them."
Rather than waiting until high school to begin conversations with students around their futures, we are tackling these critical career awareness and exploration experiences as early as kindergarten to intentionally build a student's self-awareness and option awareness across their entire K-12 education. By initiating these conversations earlier in life, our youth will be more sure-footed when it comes time to step into their future and actually make a decision to the age-old - but still vitally important – question, "What do you want to be when you grow up?"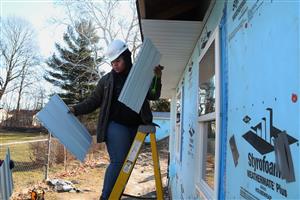 The Need
Over the last several decades, students have been emphatically told they need a four-year college degree or more to lead a successful career and meaningful life. However, the reality of good-paying jobs in our economy is that while about 30% do require a bachelor's degree or more, approximately 70% require only a two-year degree or certificate.
In 2020, KRESA partnered with the W.E. Upjohn Institute for Employment Research and the University of Michigan Youth Policy Lab to conduct several highly credible and interrelated studies to project tomorrow's high-demand, well-paying jobs and the skills they will require. Outlined in greater detail, a World-Class Career & Technical Education (CTE) Programming: A Report to the Community indicated several important discoveries for our region. Including:
Trade, Transportation and Utilities; Education and Health Services and Manufacturing are key industry sectors, comprising roughly half of employment in our region.
Significant growth is anticipated in the areas of Health and social assistance. Future shifts due to COVID-19 and automation are still unclear, but estimates reinforce the need for an agile workforce and robust CTE system.
A 2019 annual wage of $41,600 ($20 hourly) meets the criteria of being above the median for our area and supportive of a living wage for a single wage earner.
The KRESA Solution: CTE for ALL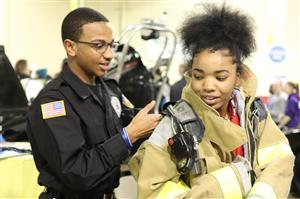 KRESA remains committed to providing equitable and inclusive career training opportunities that prepare all people for a meaningful life, regardless of race, ethnicity, gender expression, religious affiliation, legal status, sexual orientation or ability.
To remain true to the promise of "CTE for ALL," we understand our position as stewards to the next generation – we must be unequivocally committed to equity. It's our obligation, and our privilege, to put it at the center of our work.
"The work KRESA is doing to reimagine CTE in Kalamazoo County is driven by market trends and has been crafted with an eye toward an inclusive approach to CTE, from engaging traditionally underrepresented student populations to tapping into the wealth of diverse community leaders to showcase the world of work," said Dr. Rita Raichoudhuri, superintendent of Kalamazoo Public Schools.
Making good on the promise of CTE in Kalamazoo County requires deliberate work to create opportunities for all students and to address historical inequities associated with traditional vocational education. At a minimum, this work includes:
Building trust with communities skeptical of CTE owing to historical disenfranchisement
Addressing persistent race and gender gaps in CTE participation
Creating meaningful opportunities for students with disabilities
Reducing the stigma associated with the types of work typically associated with CTE-related career fields
Close alignment between educators and employers on strategies to advance diversity, equity and inclusion
"While it's not a problem that is unique to Kalamazoo County, it is a priority in Kalamazoo County," said Buck.
An "all students" commitment requires stakeholders within the KRESA network – most especially educators, administrators, employers and community partners – to deepen perspectives on diversity, equity and inclusion.
Every student deserves a high-quality education that will serve them throughout their entire life and career. To ensure equitable outcomes for all students, we must prioritize better serving under-represented populations, including our students of color. As we continue this essential work, we will remain steadfast in our dedication to continuous improvement and creating a system that equips all students with the skills they need to be future ready.