Return to Headlines
Meet Joan Hawxhurst - CTE Career Coach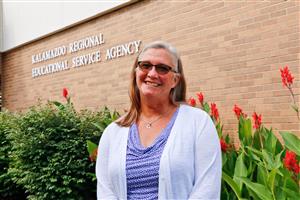 When it comes to changing career trajectories, Joan Hawxhurst, Kalamazoo RESA Career & Technical Education (CTE)'s new career coach, has some experience. When she began her post-secondary path, she envisioned herself as an architect with dreams of exploring the world.
Instead, her career path led her to a new role with Kalamazoo RESA CTE, where Hawxhurst will work directly with Kalamazoo Public Schools, alongside CTE Career Coach Ngozi Jackson, to implement the new Career Awareness & Exploration curriculum aimed at helping K-8 students see what they can be at earlier ages.
Through a variety of classes and new experiences as a freshman studying architecture at Virginia Tech, Hawxhurst was exposed to new ways of living and learning. "I fell in love with the ideas of how countries are interconnected through politics, economies and culture, and how people are involved in it," she said.
These experiences altered her perspective enough to change her major to International Studies, and she later went on to earn a master's degree in International Relations from Yale University.
While Hawxhurst's original career plan of becoming an architect shifted, the values that shaped her decision have not. "I have always loved to build things, which I think translates to my passion for building programs and initiatives," she explained.
Prior to her new role as a CTE Senior Career Coach, Hawxhurst served for ten years as the Director of the Kalamazoo College Center for Career and Professional Development, where she oversaw career development opportunities for college students.
Self-described as possessing a "taste for adventuring," Hawxhurst has traveled internationally to many countries including France, Haiti and Argentina, which fostered an appreciation for the local culture and community we have right here in southwest Michigan.
"It helped me to get to know the different ways of being in the world. Experiencing the different languages, cultures and being able to bring all of that back and trying to better understand how things work here in southwest Michigan," she explained.
In addition to her work with CTE, Hawxhurst also works as a Racial Healing Coordinator with the Society for History and Racial Equity (SHARE), an organization committed to fostering awareness, connections and conversations on race, racism and the broad societal benefits of its elimination. She plans to utilize this experience to help all kids - no matter their background or identity - feel respected, included and valued. Hawxhurst is also passionate about designing programs that are inclusive and equitable, "I want us to develop the best possible solutions for our kids," she said.
A Kalamazoo area resident for the past 26 years, Hawxhurst is enthusiastic about aligning the local education and business communities to positively affect student outcomes.
"I am looking forward to connecting business partners with schools, creating opportunities for students to learn from the wide range of professionals around us and determining how we can best support teachers in offering content in a way that uses real-world examples and that leverages the expertise of folks in our community," she said.
During her work-free time, Hawxhurst still loves to nurture her adventurer side; from swimming, kayaking and walking on the beach, she loves to be outdoors and near the water. She lives with her husband Steve, a chemistry professor at Western Michigan University, in "the woods of Oshtemo." The couple has a daughter, Sarah, 26, and a son, Isaac, 22.