Return to Headlines
From Freshman to Flourishing
May 13, 2020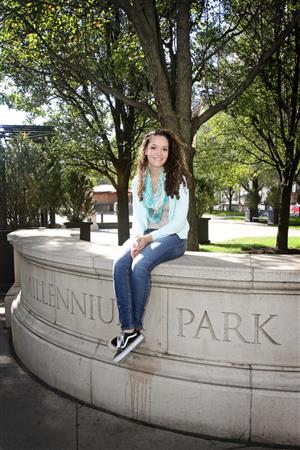 Lily Hall just finished her fifth and final year of Kalamazoo RESA's Early/Middle College program (EMC). Now, she is launching her career as a graphic designer and already has years of experience from school and work. She's 19 years old.
EMC allows high school students to earn an associate's degree or certificate at the same time as their high school diploma. Coaches are available for guidance during their transition to their career. When Hall first heard about EMC, she believed it was a great chance to get a jump start in any field.
"I didn't know exactly what I wanted to do, but I knew if I did this, I'd learn from it and I wouldn't be wasting my time," Hall said.
Since then, she chose to study graphic design at Kalamazoo Valley Community College (KVCC) and completed an internship there. Over the last five years, she's gotten to know a new side of herself—one that's developed out of her experiences in EMC.
"I've changed for the better, especially how I've become more confident," Hall said. "Now, I know if I push myself out of my comfort zone, I can be successful at anything when I work hard and put my mind to it."
Hall's mentors at KVCC assigned her a major project: designing the annual student planner. She tackled the project head-on and used her own experience as a student—and her love of bullet journaling—to make the planner as user-friendly as possible.
"As an intern, I was guided by really wonderful women who trusted and had faith in me," Hall said. "That project gave me a good amount of pressure and helped me stretch my wings. I had a lot of fun with it."
Gaining practical hands-on experience taught Hall how to be a designer and a working adult. An ambitious go-getter, one of her major learning points from her experience in EMC is to know when to rest and how to prioritize her personal life. Working herself too hard ultimately made her realize she needed to be kinder to herself.
"I got burned out only focusing on school and work," she said. "I get worse results that way, and I can see it in my designs. I learned that sometimes you have to accept that your work won't be as good as you want it to be, but you do your best anyway."
Hall is stepping straight into her career as a junior designer at KVCC and hopes to become a self-sufficient freelance graphic designer and spend her life experiencing the world through travel. After she took bold steps in EMC and pushed her limits, she now has the tools she needs to do it.
"If you're thinking about it at all, just do it," she said. "There is no losing with this program. You're not going to lose money or waste your time. I met good people and learned so much, and I would recommend this to anyone who's considering it at all."