Return to Headlines
MyCITY Participants Build Leadership Skills and Employment Opportunities This Summer
8/20/21
Summertime is often marked as a time for students to take a break from school and work-related activities, but for participants of Kalamazoo RESA (KRESA)'s Youth Opportunities Unlimited (YOU), it has been far from a quiet summer.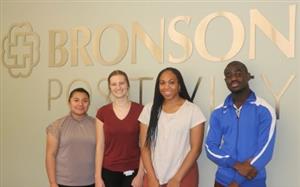 This summer, YOU hosted its annual program MyCITY, a seven-week summer youth employment program hosted by YOU that serves as a gateway to paid internship and work experience. The program provides young people with opportunities to develop their work experience, explore career interests, and have a productive summer.
Participants from the cities of Kalamazoo, Battle Creek, Portage or Albion can explore as many career paths as they want, develop leadership skills, learn how to set goals and hold themselves accountable, and connect with employers in the community—all while getting paid.
Molly Fitz Henry, the manager of special initiatives at YOU, said their role is to "act as the employer" for these participants by giving them as many opportunities as possible to define their career pathways and learn how to connect with both employers and partners in their community. The past year's evolving challenges stemming from the COVID-19 pandemic certainly impacted the MyCITY program, but that did not stop them from making this year's program just as impactful for the participants.
"We've learned a lot this past year about what works best in a virtual setting," she said. "This summer worked really well with us implementing virtual job shadowing and how we've formatted programming to be more like an internship experience, despite being virtual."
This summer, the YOU team introduced a career pathway planning service - Virtual Job Shadow - for participants that featured over 500 occupational videos participants could customize to their individual preferences.
"This tool really helped us engage students this summer to give them an extra resource and help them home in on what they're interested in!" said Fitz Henry.
There are three phases to the MyCITY program—Career 101, Career 2.0, and Career Now. Career 101 is for 14-and-15-year-olds who are not sure what they want to be when they grow up and features career exploration, employability skills, and coaching. Career 2.0, the second phase of the MyCITY program, is geared for 16-to-21-year-olds who want to develop key skills for their professional success. In this phase, participants are typically placed in internships with partners for hands-on work experiences.
"With the COVID-19 pandemic, we were not able to provide in-person work-based learning this year, but we've been elevating this experience by placing students in small groups to simulate a work team where they did an orientation together, practice interviews, peer review resumes, and work together on defining their team's culture." Participants also worked on a cumulative group project where they identified a challenge that young people in the area were facing and how they can address solving that problem.
The final phase of the MyCITY program, Career NOW, is for 18-to-21-year-olds looking to land a job in the specialized field of their choice. Participants in Career NOW receive supplemental soft skills training, technical training, community-based internships, and job placement assistance.
Community partnerships are what make MyCITY stand out for both the participants and the partners. This summer, Kellogg Community College worked with participants to provide them with tools to jumpstart their careers. Post-secondary education, information on career laddering and credentials, non-traditional tracks to earning those credentials, and a lifelong learning workshop are just a few of the training and education opportunities that participants experienced.
Employer partners, including FedEx, were also involved to provide advice, make connections and set participants up for success.
"FedEx had basic job requirements that participants could meet, which provided them an opportunity for immediate placement after high school… they discussed employment opportunities at their new Portage facility, shared key qualifications they're looking for, and mapped opportunities for advancement with career pathways," said Fitz Henry.
Finally, local mentor Mo Brooks, Director of Youth Ministries at Mt. Zion Baptist Church and the founder of Mo Brooks Ignites, LLC, met with participants throughout the program and facilitated a series of four workshops with participants on the DISC assessment and how they can use their personalized results in their work skills.
Despite the ongoing pandemic, participants of this year's summer MyCity program made the most of the summer, picking up valuable job skills and experience in a time of economic uncertainty.
"The program has received a lot of positive feedback," Fitz Henry said. "We have adjusted the programming to fit the career goals of the participants while still keeping them safe and still giving them real word experience."
MyCITY Kalamazoo is funded by the City of Kalamazoo's Foundation for Excellence.
To learn more about YOU's MyCITY program, visit: https://mycityyou.org/