Return to Headlines
Kalamazoo RESA trains prospective bus drivers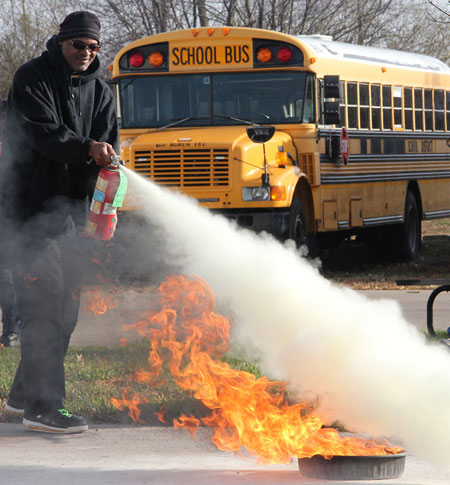 From a public awareness standpoint, school bus driver training may be one of the least-known programs of Kalamazoo Regional Educational Service Agency.
It also may be one of the most important.
William Dawson, Kalamazoo RESA's facility/transportation coordinator, oversees a consortium of nine intermediate school districts in south and southwest Michigan called the Regional Transportation and Safety Institute. The programs provided through this institute serve 150 public and private school districts that employ about 2,500 bus drivers.
School bus trainees are selected by individual school districts. Applicants are screened, fingerprinted and interviewed. The districts perform driving record and criminal record checks, drug screens and Department of Transportation physical exams.
Once they are hired, driver candidates come to Kalamazoo RESA for a three-day beginning bus driver training, which involves classroom and hands-on time in the bus as well as practical use of fire extinguishers and flares. The candidates have 90 days to take the class, which is offered monthly, August through June. Continuing education also is necessary, with six hours of training required every two years.