Return to Headlines
Michigan's lieutenant governor observes instruction at WoodsEdge Learning Center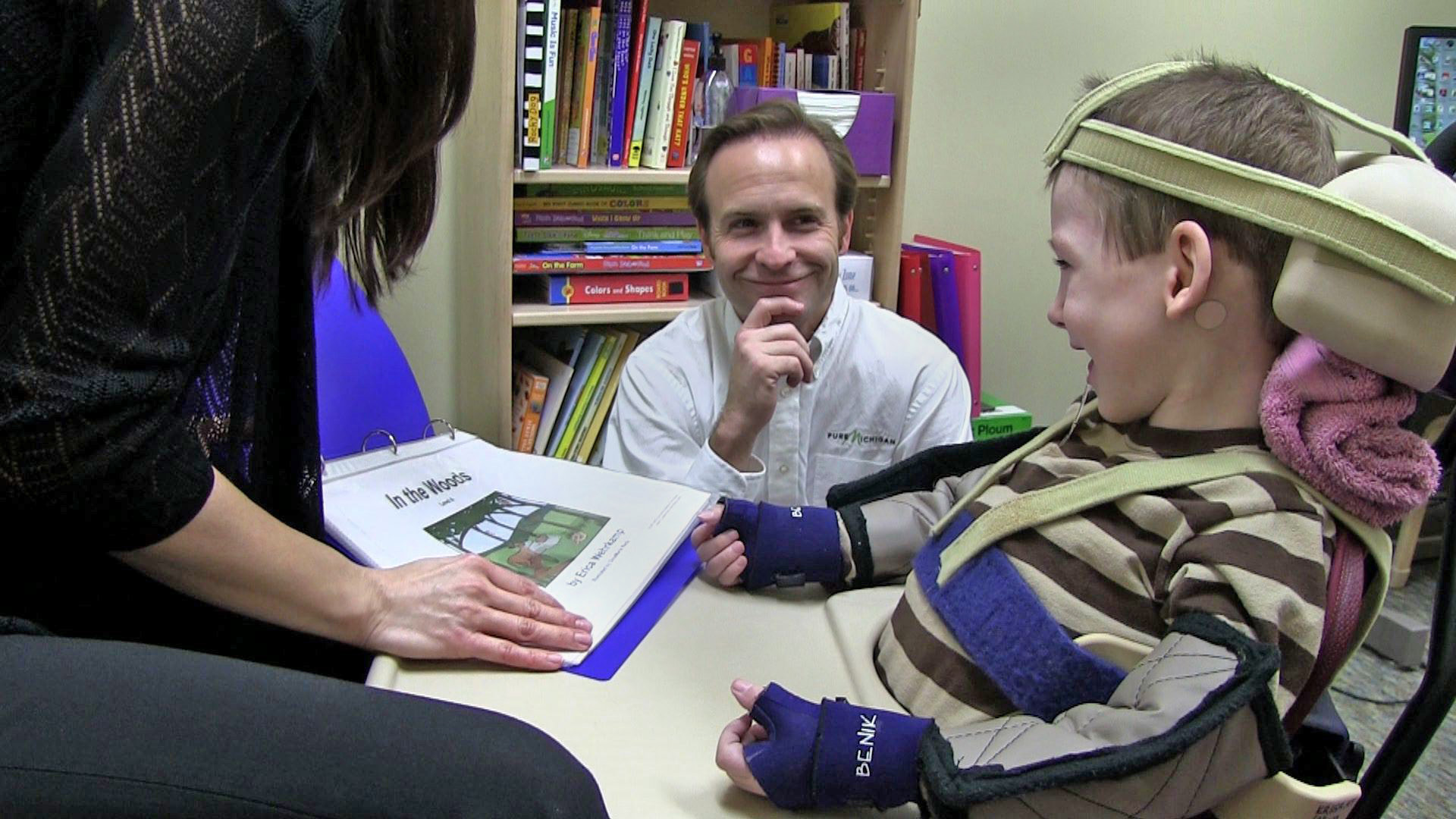 Photo courtesy of Scott Harmsen
.
Michigan's Lt. Gov. Brian Calley smiles at WoodsEdge Learning Center student Mason Hawley after Mason demonstrates the technology that allows him to read books with speech therapist Sarah Vomastek.
Michigan Lt. Gov. Brian Calley toured Kalamazoo RESA's
WoodsEdge Learning Center
on Monday and, after spending an hour talking to staff and observing their instruction of students, he said, "I've never seen anything like this."
Calley, who was in Southwest Michigan to speak to the Kalamazoo Rotary Club, stopped by WoodsEdge prior to his presentation. The state-of-the-art school for Kalamazoo County students with autism, severe physical or cognitive impairments is the first special education facility in the nation to achieve LEED® Gold certification in the schools category.
Calley, who has a daughter with autism spectrum disorder, said he has been in other special education facilities, but what he observed at WoodsEdge is unique.
Kalamazoo RESA Superintendent Ron Fuller agreed and credited the school's director, Angela Telfer, and Assistant Superintendent for Special Education Laurie Montgomery for their emphasis on instruction.
The expectation – that "all kids can learn" -- is at the heart of the program, Fuller said, and they have a regular curriculum in place to support that belief.
Then Fuller turned to Telfer and said, "Kudos to you and your boss (Montgomery) for saying that expectation is non-negotiable."
Calley noted how rare it is "even just having academics as part of an IEP." An IEP – Individualized Educational Program -- is a written plan for each child who qualifies for special education that is developed in compliance with state and federal laws pertaining to services for students with disabilities.
Earlier this year, the lieutenant governor, from Portland, Mich., supported and signed state legislation authorizing autism insurance reform in Michigan. Those bills were praised by state Senate Majority Leader Randy Richardville as "the single best piece of bipartisan work that I've seen in my career."