Return to Headlines
YAP students job shadow, gain work experience at Sam's Club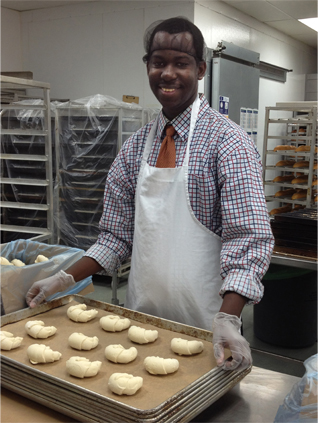 PORTAGE - Eight students from the Kalamazoo Regional Educational Service Agency's Young Adult Program took part in a special mentoring day at Sam's Club recently.
The students were given opportunities to shadow employees and learn about job requirements throughout the store, including the bakery, automotive, produce and grocery and clothing departments.
Here, Leonce Hanana gets work experience by job shadowing in the bakery.
Connie J. Laurinat, YAP work coordinator/special education teacher, made the arrangements for her students to job shadow employees at Sam's Club. The mentoring day is observed each year on the third Wednesday of October to mark National Disability Employment Awareness Month.
Sam's Club is a primary sponsor of the program, which provides an opportunity to promote career development for students and job seekers with disabilities through hands-on career exploration, internships and employment opportunities.