Return to Headlines
Thank you to our local employers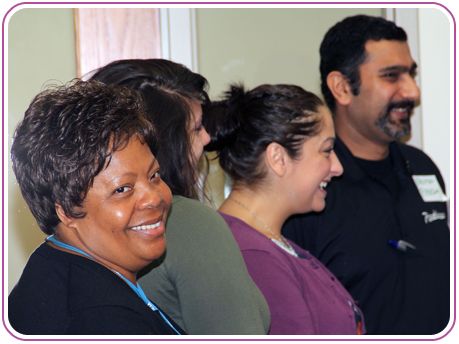 The

Young Adult Program

annual Employer Appreciation Breakfast Thursday at West Campus honored many local businesses and institutions that work with Kalamazoo Regional Educational Service Agency to help prepare students for the work world.
Meijer Inc.'s West Main Street location, Sodexo at Borgess Medical Center, Radisson Plaza Hotel at Kalamazoo Center, Old Burdick's Bar & Grill, John Gernaat & Sons Greenhouse, Aramark at the Kalamazoo Valley Community College cafeteria, Friendship Village, Kalamazoo Gospel Mission, Kalamazoo RESA's West Campus maintenance department, Child Development Center at Borgess, WoodsEdge YMCA Child Development Center, KVCC Central Receiving Department, Petsmart and Bronson Athletic Club were honored for collaborating with YAP to provide valuable and practical educational experiences for students. Breakfast was prepared by the Dream Team Cafe, a Kalamazoo RESA Juvenile Home program.
Shown here, from left, are: Terry Larkins, who is the Young Adult Program work site supervisor at the Radisson; with honorees Ashley Rach and Georgia Leventis-Molina, managers at Old Burdick's Bar & Grill; and Nauman Choudhry, director of housekeeping at the Radisson Plaza Hotel.