Return to Headlines
Taking care of business: Junior Achievement gives students real-world insights
By Alison Black | Special to the Kalamazoo ...
January 26, 2010, 1:30PM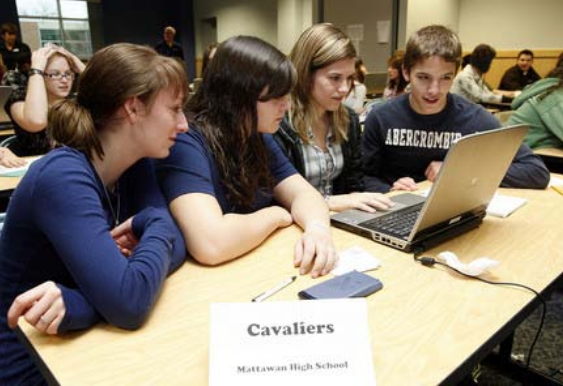 From the left, Mattawan sophomores, Mikayla Irwin, Emily Celeski, Natalie Stowell and Aaron Bell, of team "Cavaliers", brainstorm together during the Junior Achievement competition at Kellogg Community College, Battle Creek. The event is described as a business strategy tournament using a Junior Achievement business simulation program for high school students. Friday, January 15, 2009.
Junior Achievement

Junior Achievement offers K-
12 educational programs that
focus on entrepreneurship,
work readiness and financial
literacy. For information or
to volunteer, contact Junior
Achievement of Southwest
Michigan by telephone at
(269) 968-9188 or (269)
343-0860, or online at
http://swmichigan.ja.org.
BATTLE CREEK —
Eighteen-year-old Dimitris Griffin knows what to do about a company's overproduction problem.

"Lower the price! Lower the price!" Griffin advised his Comstock High School teammates at the fifth annual Titan Challenge, a Junior Achievement competition held Jan. 15 in Battle Creek.

Lowering product price should help to move excess inventory, Griffin explained.

Griffin, a senior, attended the event with his accounting class, one of two Comstock classes now enjoying weekly visits from JA volunteers Carole McNees, a Plante Moran accountant, and Kathy Fosmoe, a former high school teacher who currently works as a real-estate agent.

McNees and Fosmoe share their business knowledge with students, addressing topics like price-setting, marketing and even how much to set aside for charitable contributions, Comstock business teacher Alison Nord said.


| | |
| --- | --- |
| | |
| | Comstock High School's Team Commotion — from left, senior Chad Griswold and juniors Chelsea Mazure, Sam Schreuder and Andy Merkle — makes a last-minute decision during the final round of the Junior Achievement competition last week in Battle Creek. Team Commotion took first place in the tournament, in which participants played a computer game designed to teach students about running a successful business in the face of stiff competition. |
"They do a really good job of bringing in amazing real-world examples, and describing things in a way that teenagers can understand," Nord said. "They devote each week to one topic and hit that pretty hard."

Nord credits McNees and Fosmoe for contributing to Comstock's success at the Titan tourney: Comstock teams swept first, second and third places in the Gold Medal Round.

Team Commotion's first-place finish netted $250 individual scholarships for Comstock students Chelsea Mazure, Andy Merkle and Sam Schreuder, all juniors, and senior Chad Griswold.

"This brings out my competitive side, so it's a lot more concentrated" than only learning from textbooks, Schreuder said of the experience. "It feels a lot more like real life."

Preparing students to succeed in a global economy is what Junior Achievement is all about, said Brad Kaufmann, president of JA of Southwest Michigan.

"Our focus is really on three areas: Entrepreneurship, education and general business education," Kaufmann said of the organization, which placed more than 700 volunteers in more than 1,000 area classrooms last year.


| | |
| --- | --- |
| | |
| | Mattawan High School sophomore Jacob Schacht works the computer during last week's Junior Achievement competition. |
In total, JA of Southwest Michigan involves some 22,772 students in Allegan, Barry, Branch, Calhoun, Eaton, Kalamazoo, St. Joseph and Van Buren counties.

"I love working with the kids," McNees said. "I enjoy it so much because of the reaction that kids have when they start to understand business decisions. The kinds of questions they ask, you think, 'Wow, that's a really good question.'"

About 130 students from seven area high schools — Battle Creek, Climax-Scotts, Comstock, Galesburg-Augusta, Gull Lake, Mattawan and Schoolcraft — participated in the Titan Challenge by playing a computer game designed to teach students about running a successful business in the face of stiff competition.

"This really teaches students about entrepreneurship," Kaufmann said. "It helps to reinforce what they're learning in school by opening their eyes to the many intricacies of running a business."