Return to Headlines
EFE Alumni Leads EFE Dental Assisting Students at KVCC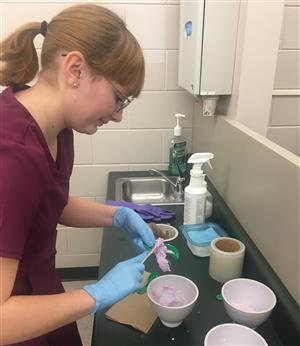 A former student of the Education for Employment (EFE) Allied Health program, Katie Hatfield now leads EFE Dental Assisting students at the state-of-the-art dental facilities at Kalamazoo Valley Community College.
Upon spending two years in EFE's Allied Health program, Hatfield realized that her lifelong plan to pursue a career as a pediatrician was not actually the best course for her. Fortunately, with the expansive study of many medical specialties in Allied Health, she knew that she wanted to continue her education in dental hygiene. In 2010, Hatfield received a baccalaureate degree from Western Michigan University and became a Registered Dental Hygienist from Kalamazoo Valley Community College in 2014.
"I can't begin to explain the impact that my EFE experience had on my career. I thought, without a doubt that I was going to be a medical physician for most of grade school. After completing two years of Allied Health and having two internships in different offices and hospitals, I decided that it was not for me," explained Hatfield. "Fortunately, my EFE program allowed me to dive into the medical field and research many different specialties, which opened my eyes to the endless possibilities."
Now a professor for KVCC's highly regarded dental hygiene program, Hatfield also leads Kalamazoo County high school students in the EFE Dental Assisting course.
Hatfield guides her students through basic dental skills such as taking vitals, learning the anatomy of the head and neck, tooth numbers and dental terminology. As part of the partnership with KVCC, the students are also allowed access to KVCC's high-tech dental clinic, which is where they learn four-handed dentistry, how to take impressions and pour models and so much more. During their final semester, the students become certified in taking x-rays and are placed in an eight-week internship at a local private practice.
In an effort to promote career readiness, Hatfield also assists her students through the development of a portfolio, which includes a resume and cover letter and interview practice. These pieces and experience will be crucial to her students as they pursue their careers and begin the quest to find a job.
A senior at Vicksburg High School and a graduating student of the EFE Dental Assisting program, Gabriella Roehm hopes to pursue a career in dentistry. This year she was also recognized as a Kalamazoo RESA Outstanding Senior Awards recipient.
"The EFE Dental Assisting course was a great learning experience for me and I am lucky to get an opportunity like this. I cannot wait to begin learning more. This course helped me solidify my love for dentistry," she said. "I am thankful that my school district offers these programs and the community supports the internship opportunities."
As a former EFE student and current EFE teacher, Hatfield's experiences have given her a unique perspective of the program.
"It is an awesome opportunity for these students to be a part of an EFE program worth college credit and one that gives them as much hands-on experience as the dental assisting program does. The students leave with a vast amount of new information and skilled trade experience which is valuable right after graduating high school," explained Hatfield. "Having their EFE program at KVCC also allows them to see what college life is all about before they are out of high school and on their own. Even if they decide that dentistry is not for them, they are a few steps ahead and have saved a lot of money in the process."
Learn more about the EFE Dental Assisting course and others at kresa.org/efe.