Return to Headlines
EFE Instructor Matt Schultz Leads Students through Experience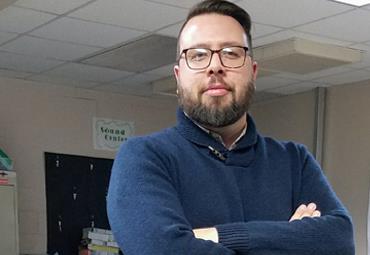 Matt Schultz could be described as a jack-of-all-trades; from creating three startup companies to leading eager high school students in two separate Education for Employment courses, he is an enthusiastic go-getter with experience in many types of job markets and industries.
Mr. Schultz lives his life by the words of his father, "If there's an opportunity to do something- do it!" A motto that has clearly affected the decisions he's made throughout his life.
Upon graduating from Indiana Wesleyan University in 2004 with an undergrad in business management, Schultz earned a Master of Business Administration degree in 2010 from Cornerstone University and went on to receive a master's degree in Career and Technical Education from Western Michigan University in 2016.
Prior to his current teaching position, Schultz, in partnership with his brothers Justin and Adam, created three very diverse and successful startup businesses: JPIXEL Solutions, a web design and social media marketing company; Heritage Beard Company, an all-natural beard care company available at Meijer and expanding to Walmart stores across the country; and Rusty's Hope, a nonprofit pediatric brain tumor research organization created in memory of his nephew.
Currently in his second year of teaching at Climax-Scotts High school, Schultz leads the EFE Business Administration Management & Operations (BMA) course with a heavy career focus. During the course, students participate in multiple personality tests and explore tools such as Career Cruising to find careers that will connect with them on a deeper and more meaningful level.
Schultz guides his BMA students through a brief overview of economics, business management and ethics, as well as several projects such as a smaller mock-up version of the national JA Titan Challenge. His ultimate goal is that his students will leave his classroom prepared for the field with a basic understanding of their role within it.
He hopes his students will remember this one thing: "Don't just go for a career or lifestyle because it makes the most money. When you love what you do it makes you a better person, and if that job doesn't exist- make it!"
In addition to the BMA course, Schultz also teaches the brand new EFE Computer Science class, which focuses heavily on the history of technology and design. He believes that the best comprehension of current technology stems from an understanding of the problem-solving decisions of the past.
Like most courses of this nature, the Computer Science class is divided into two parts: lecture and lab. Whereas unlike other courses, Schultz's course features the lab before the lecture so that students are forced to problem solve and reflect on their decisions.
One project that students in the Computer Science class get particularly excited about is designing and programming their own app through code.org, the renowned website dedicated to encouraging anyone and everyone to learn how to code. In the past, students have created many versions of games, with one that was so tough it even stumped Schultz himself.
Schultz is also passionate about putting to rest the stigma that surrounds the computer science field. "Anyone can program as long as you put your mind to it! It's not about 'smart,' it's about perseverance," he said.
In addition to his other business and teaching endeavors, Mr. Schultz also teaches STEM computer science classes to middle school students and will teach a Project Lead The Way Robotics and Automation course for the 2018-19 school year.
Learn more about EFE BMA, Computer Science classes and more at kresa.org/efe.