Return to Headlines
Meet Lorri Batsie - CTE Career Coach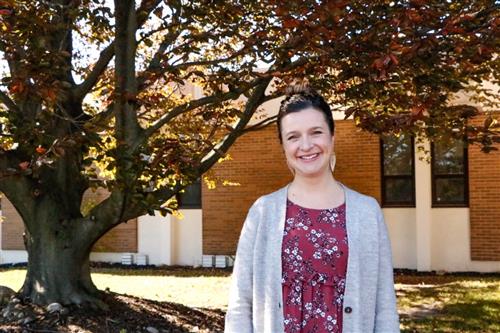 When it comes to preparing students for meaningful careers and a successful future, Career & Technical Education (CTE) Career Coach Lorri Batsie often refers back to her favorite quote by Eric Sheninger, "Don't prepare kids for something, prepare them for anything!"
Batsie joined the dynamic team of CTE career coaches after the successful approval of Kalamazoo RESA (KRESA)'s CTE millage in November 2019. Batsie works alongside fellow career coach Joan Hawxhurst to implement the new Career Awareness & Exploration curriculum at Kalamazoo Public Schools. The innovative K-8 curriculum is designed to help students see what they can be at earlier ages.
Upon earning a bachelor's degree in history and humanities from Valparaiso University and a master's degree in library and information science from the University of Illinois, Batsie began her career as the fifth librarian in her family.
After gaining 10 years of teaching experience, Batsie moved to Michigan. She worked as an instructional technologist with the Regional Educational Media Center (REMC) at KRESA, a role which allowed her to support educators in the integration of technology tools into the classroom.
Ready to get back in the classroom, Batsie's next career move took her to Hackett Catholic Prep High School, where she taught business and computer science, and served as the school librarian. During her tenure at Hackett, Batsie helped establish and led the award-winning Irish Robotics team.
"I have few greater memories than the day when the Irish Robotics team won the Kenwood tournament," beamed Batsie. "I learned the critical values of networking and perseverance and the ridiculous amount of love you can have for a group of students committed to learning something new."
All of Batsie's professional experiences led her to recognize the necessity of helping students realize their passions and skills at younger ages, in fun and engaging ways.
"When I work with students, I want to pair career exploration with relevant, engaging opportunities that I have seen first-hand in my own classroom," explained the career coach. "Rather than simply sitting at a desk and receiving direct instruction, I want to truly push students to consider what they're capable of and what problems they could work to solve within our community."
What really energizes Batsie about this work is the shared passion among those involved and the potential impact this programming can bring to Kalamazoo County youth.
"I've been in meetings and heard about what my colleagues have been doing to serve kids and our community, and I'm awestruck," said Batsie. "Organizations like Kyd Network and YOU – I want to be that kind of game-changer for our kids! I think the work we're doing to make career exploration equitable has been the biggest inspiration."
Batsie's two children, Brooke, 11, and Caden, eight, are always happy to test out their mom's fun and innovative career exploration curriculum. During her free time, Batsie enjoys reading and traveling, as well as watching Glee with her daughter and building cardboard raccoon theme parks with her son for his toys.