Return to Headlines
May 7, 2020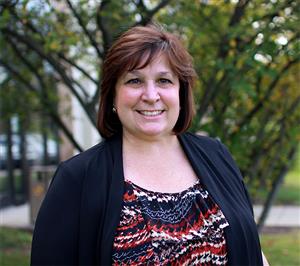 After 17 years of dedicated service, Kalamazoo RESA Assistant Superintendent of Secondary Programming Deb Miller will retire in June 2020.
As part of her role, Miller oversees operations of Education for Employment/Career and Technical Education (EFE/CTE), Education for the Arts (EFA), Early/Middle College (EMC) and Youth Opportunities Unlimited (YOU) programming.
Throughout her tenure with Kalamazoo RESA, Miller has also held the EFE director and student services administrator roles where she has consistently worked to grow student participation and impact. The retiring assistant superintendent says she has enjoyed building connections with local school districts, the post-secondary community and business and industry partners. Additionally, she enjoyed watching the development and growth of the EMC program, participating with Career Awareness and Exploration to bring career opportunities to K-12 students, seeing the growth of the MiCareerQuest Southwest event, and attending the Kalamazoo RESA Outstanding Seniors Awards Banquet for remarkable leadership and achievements of EFA and EFE/CTE students.
"The integrity that she lives by is unparalleled, even in the face of adversity; I can hear her saying 'we take the higher road!' She is loyal, trustworthy, compassionate and dedicated to her life's work of improving the lives of the students we serve, and she challenges us to do the same." said Kathy Spackman, Miller's executive assistant. "She is, by far, the best boss and friend anyone could imagine working for."
"Together, we have accomplished great things. The future is bright for our youth with much more yet to come," said Miller. Miller looks forward to spending more time with her family and grandchildren in Michigan and Texas, working in her garden and developing other educational opportunities during her retirement.
Thank you, Deb Miller, for your many years of dedicated service to our students, staff and community.