Return to Headlines
EFE Alumni Gain Hands-On Experience in South Africa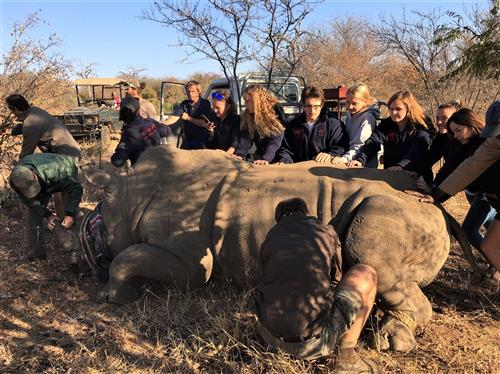 By Raine Kuch, Kalamazoo RESA Communications Intern
Six Education for Employment (EFE) alumni, from the Veterinary Science and Conservation Biology courses, experienced an unforgettable trip to South Africa in June, where they gained hands-on experience working in their field.
The class, led by EFE instructor Noreen Heikes, spent two weeks in South Africa's Limpopo Province exploring conservation and wildlife veterinary medicine in a real-life setting.
The students who traveled to South Africa were from all across the Kalamazoo area: Allyssa Vanloo, Vicksburg High School; Luke Cunningham, Portage Central High School; Danielle Brodhagen, Loy Norrix High School; Rebecca Porter, Heritage Christian Academy; Harley Davis, Otsego High School; and Sami Nearpass, Galesburg-Augusta High School. Each student was responsible to raise trip funds though individual fundraising efforts.
Prior to the South Africa trip, Veterinary Science students completed an intense semester of veterinary coursework followed by a semester working in a local veterinary clinic.
As soon as they arrived in South Africa, they got to work. During the trip, the EFE students used innovative means to apply their knowledge to help animals they had never had the opportunity to work with before, such as: antelope, giraffe, zebra, Cape buffalo and rhinos. This once-in-a-lifetime experience also included horseback safaris and target practice with a dart gun from a helicopter.
"What impacted me most was that it allowed me to get hands-on experience working with animals that I want to work on in my future as a wildlife vet," said Harley Davis. "And it's going to help me get a foot up on others and help launch my career."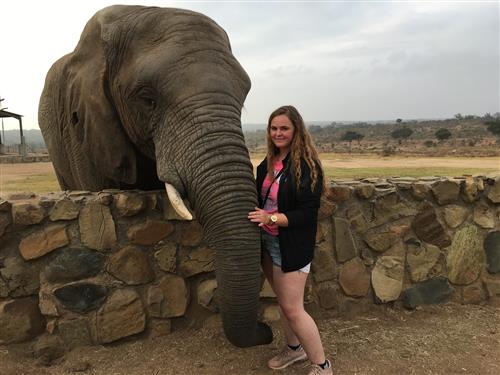 Students were also given the opportunity to assist experienced wildlife veterinarians in dehorning rhinos, an increasingly common practice at many wildlife preserves to dissuade poachers from illegally killing the animals for their horns.
Noreen Heikes hopes that her students come away from this trip with increased confidence, a wider global perspective and a growing curiosity about the world. She says that her most memorable part of the trip was, "watching my students stretch far beyond their comfort zones and succeed in things they never imagined."
Visit the Veterinary Science Trip in South Africa Blog to see photos and read more about the student's daily experiences in South Africa.
Learn more about the EFE Veterinary Science and EFE Conservation Biology courses as, well as other EFE programs on the Education for Employment website.