Return to Headlines
EFE Students Shine at Gull Lake High School Innovation Day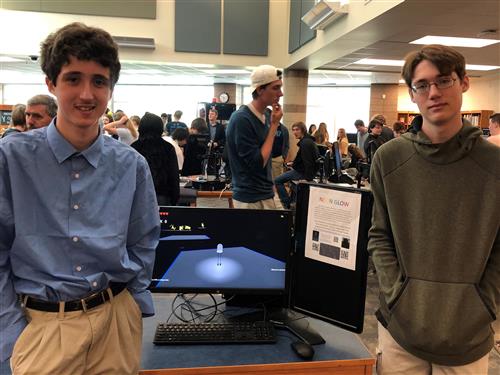 Students in the EFE Computer Science & Software Engineering course showed off their scientific achievements at Gull Lake High School's Innovation Day on Thursday, May 16.
As part of their Research and Design projects, the students were allotted 20 percent of their weekly class time to work on any project in response to the question, "Wouldn't it be cool if…?"
Kim Chheu of Loy Norrix High School sought to create a machine that could "write whatever you told it to," so she built a 2D printer. As of Innovation Day, Chheu had programmed the machine to write the word "hello," but as her work and the class progresses, she hopes to create a system in which the user has the ability to control the output of what it will print.
When asked about the EFE Computer Science & Software Engineering course, she said "It's fun and pretty independent. It has definitely taught me how to problem solve."
Homeschool student James Bishop and Josef Ericson of Portage Northern High School wanted to create something that had never been done before, so the pair developed a video game which they titled "Neon Glow."
"The game revolves around a color changing LED trying to get to the end platform of each level. The LED needs to avoid various obstacles, including high voltage batteries, swinging hammers, dangerous pits and falling platforms," explained Bishop and Ericson on their project website. "The LED changes color in order to accomplish different tasks, for example, light blue allows the LED to slow down time to make more precise movements."
"Innovation Day is a great day for computer scientists to display their Research & Development Projects that they have been working on throughout the year. One of the goals is for students to work on their soft-skills throughout the day discussing their projects to their peers, family, teachers, businesses, and administration," said EFE Instructor Mr. Brad Lange. "Innovation Day is held to inspire our younger students at Gull Lake to be the next computer scientist and develop projects that will truly inspire others."
Learn more about the EFE Computer Science & Software Engineering course on the EFE website.