Return to Headlines
Early/Middle College Celebrates Class of 2019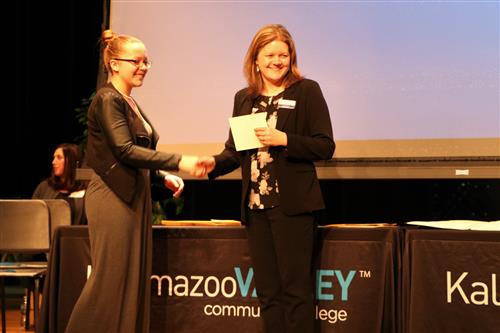 The Kalamazoo County Early/Middle College (EMC) program celebrated its second annual completion ceremony on Thursday, May 9, at Kalamazoo Valley Community College.
The EMC program, which allows students to earn an associate degree or certificate with little or no cost by completing a fifth year of high school, boasted 367 students enrolled during the 2018-19 school year, with 56 Kalamazoo County students having successfully completed the program this year at KVCC.
Kalamazoo Valley Community College's newest president, Dr. L Marshall Washington, commended the students and their families for their hard-wrought success.
"Our best and brightest that excel academically in Early/Middle College are being celebrated tonight," said Dr. Washington. "Through this partnership, we've created a great opportunity for students to get a jump start on their career."
Dr. Washington encouraged the EMC students to never give up on their ambitions, even in the face of adversity. "Success will come when you achieve your dreams," he said. "It's not the scope of your dream that matters, but the fact that you have a dream and are working toward it."
The EMC Class of 2019 was also addressed by fellow fifth-year student Stephanie Fee of Comstock High School. Fee spoke to her peers about how the EMC program has helped her to achieve more than she ever expected she would. "Being a first-generation college student, I never thought I'd be in this position of graduating from college, let alone speaking at a completion ceremony," she said.
Fee challenged her EMC classmates to be a source of strength for others during hardships. "I ask for you to encourage and uplift those in hard times, to help in any way possible, whether you are 18 and have no idea what you are doing, or if you have some white hairs of wisdom and words to match."
EMC alumni Hunter Ackerman encouraged the graduates to set goals and work hard to achieve them, but to remain optimistic in the face of difficulty.
"What do you do if you can't meet those goals?" questioned Ackerman. "Who cares! If the road you take is longer, who cares? Be wary when it comes to setting goals, try your best, but whatever happens, happens," he said.
"Just remember the lows can be low, but the highs will always be higher. The flowers cannot blossom without a little rain. Trust that you are here for a reason," encouraged Fee.
For more information about the Kalamazoo County Early/Middle College program, visit www.kresa.org/emc.
Congratulations to the 2019 Class of Early/Middle College:
Climax-Scotts High School
William Swalwell
Comstock High School
Stephanie Fee
Kierra Lovelace
Gull Lake High School
Joshua Bailly
Bonnie Balkema
Conner Barnes
Logan Birchmeier
Kylee Brown
Karli Burns
Ethan Cramer
Sedona Dobson
Kelsey Ekkens
Joseph Elms
Dallas Fuller
Matthew Gelbaugh
Andrew Haase
Robert Heidarisafa
Brielle Jenner
Evan Johns
Mackenzie Jonas
Ashley Kuhse
Dade Lancaster
Benjamin Lawrence
Audrey Ledvina
Affan Malik
Caitlynn Morgan
Samuel Newhouse
Hunter Poth
Garrett Sander
Ethan Schwab
Kaitlyn Spellicy
Devon Stillwell
Tristyn TerAvest
Regan Tustin
Kylie White
Amber Willsea
Loy Norrix High School
Madison Holmer
Parchment High School
Joshua Appelgren
Thomas Guess
Lauren Heaney
Karson Linders
Stephanie Norris
Trenten Seeger
Andrew Slager
Nicholas Slater
Schoolcraft High School
Taylor Bonhomme
Zoey Dubuisson
Austin Edwards
Sean Endres
Colin Evans
Carter Hammer
Collin Hampton
Jack Hunt
Zosha Kuiper
Kristian VanGorder
Spencer Waterman