Return to Headlines
EFE and EFA Recognizes 2019 Kalamazoo RESA Outstanding Seniors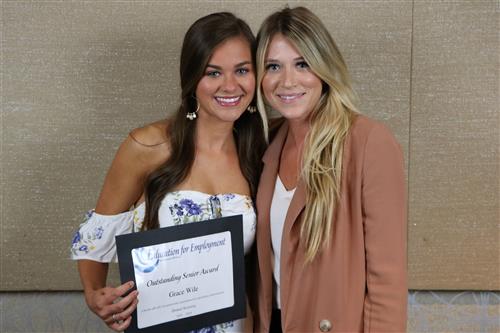 Graduating seniors from Kalamazoo RESA's Education for Employment (EFE) and Education for the Arts (EFA) programs were recognized on Thursday, April 25 at the Radisson Plaza Hotel, for their remarkable academic accomplishments at the 2019 Outstanding Senior Awards Breakfast.
In addition to honoring the 64 high school seniors who were nominated by their EFA and EFE teachers, every single student also received a scholarship, totaling in $64,450, an effort made possible by the contributions of 43 generous donors.
During the banquet, several alumni including Christopher Blevins of Secant, Erich Miner of Duncan Aviation and Delta Global Services, and Ellyssa Seager of the Kalamazoo Institute of Arts addressed the graduating seniors and their families, offering words of advice and heartfelt congratulations.
"I now get to apply everything that I've learned with computers on a daily basis, and I get to learn more every day out in the field," beamed Blevins. "I had no idea that I would be in such a good position right out of high school. I can truthfully say that because of EFE, I was able to find my path, and learn what I enjoy."
The EFE program also honored Todd McDonald, Principal/COO of CSM Group as the recipient of the 2019 EFE Business & Industry Award for its passionate commitment to growing the talent pipeline in Southwest Michigan and for giving EFE students authentic work-based learning experiences.
"Last year Todd approached us about providing personal protective equipment for our Construction Trades students. As a result, each student in that program for the past two years has received a hardhat, fluorescent vest, safety glasses and work gloves courtesy of CSM Group," explained Cameron Buck, EFE program administrator. "This equipment has allowed the students to see how important safety is in the construction trades field, how seriously CSM takes safety and the opportunity to experience the value CSM places on the safety of its employees."
In her closing remarks, Kalamazoo RESA Assistant Superintendent of Secondary Programming, Deb Miller, channeled the late Larry Schlack, a dear friend and strong supporter of EFE. "Choosing a career you love means you will not have to work a day in your life. So, find what you like doing best and get someone to pay you for doing it."
View photos from the Kalamazoo RESA Outstanding Senior Awards on the Kalamazoo RESA Facebook page.
Congratulations to the 2019 Kalamazoo RESA Outstanding Seniors:
Andre Aro
Kalamazoo Central High School
Parents
Kate Aro & Patricia Boylon
Program
EFE Electronics & Robotics
College
Hope College
Career
Engineering
Tucker Batdorff
Vicksburg High School
Parent
Lora Batdorff
Program
EFE Computerized Manufacturing & Engineering Design
College
Glen Oaks Community College
Career
Diesel Mechanics
Garrett Bell
Vicksburg High School
Parents
Kevin & Beth Bell
Program
EFE Law Enforcement
College
Kalamazoo Valley Community College
Career
Criminal Justice
Dammon Beverly
Kalamazoo Central High School
Parents
Irvin & Christine Beverly
Program
EFE BMA & Marketing
College
Wayne State University
Career
Business
Roxanne Brown
Portage Northern High School
Parents
Harry & Sandra Brown
Program
EFE Accounting
College
Davenport University
Career
Accounting & Finance
Brandon Buchanan
Gull Lake High School
Parents
Steve & Dianne Buchanan
Program
EFE Cybersecurity
College
Kalamazoo Community College
Career
Undecided
Eli Caranci
Portage Northern High School
Parents
Darin & Amy Caranci
Program
EFE Accounting
College
Western Michigan University
Career
Aviation Flight Science
Tanner Clements
Comstock High School
Parents
Brad & Brenda Clements
Program
EFE Conservation Biology
College
Kalamazoo Valley Community College &
Michigan State University
Career
Fisheries & Wildlife
Kedzie Coleman
Loy Norrix High School
Parents
Ferris & Rhonda Coleman
Program
EFE Culinary Arts
College
Kalamazoo Valley Community College
Career
Psychology or Culinary Arts
Alex Cox
Portage Northern High School
Parents
Dason & Nicole Cox
Program
EFE Engineering in Wood Technology
College
N/A
Career
Apprenticeship program for the Michigan Regional Council of Carpenters
Gregory Culp
Loy Norrix High School
Parents
Jerome & Michelle Lunzy
Program
EFE Law Enforcement, Accounting & BMA
College
Undecided
Career
General Studies
Luke Cunningham
Portage Central High School
Parents
Daniel & Linda Cunningham
Program
EFE Veterinary Science
College
Undecided
Career
Kinesiology
Xavier Davis
Kalamazoo Central High School
Parents
Willie Thurman & Nikisha Davis
Program
EFE BMA & Marketing
College
Lawrence Technological University
Career
Sports Management & Marketing
Arwin Depue
Gull Lake High School
Parents
Arwin Depue & Jeri Gower
Program
EFE Accounting
College
Kalamazoo Valley Community College
Career
Undecided
Hailie Doyle
Portage Community High School
Parents
James & Julie Doyle
Program
EFE Veterinary Science
College
Undecided
Career
Veterinary Medicine
Brad Ferris
Portage Northern High School
Parents
Stephen Ferris & Melissa Yanos
Program
EFE Work-based Learning
College
Kalamazoo Valley Community College
Career
Computer Science
Henry Fiocchi
Gull Lake High School
Parents
Dino & Teresa Fiocchi
Program
EFE Law Enforcement II
College
Kalamazoo Valley Community College
Career
Communications
Sharmane Flanders
Portage Central High School
Parents
Tony & Monica Flanders
Program
EFE Art & Design Career Skills
College
Kalamazoo Valley Community College
Career
Art & Design
Sabina Gamez
Schoolcraft High School
Parents
Jaime & Joanie Gamez
Program
EFE Health Science
College
Kalamazoo Valley Community College
Career
Nursing
Sam Gearig
Vicksburg High School
Parents
David & Christine Gearig
Program
EFE Work-based Learning
College
Kalamazoo Valley Community College
Career
Heating, Ventilation & Air Conditioning
Andrew Hoover
Vicksburg High School
Parents
Marty & Lisa Hoover
Program
EFE Computerized Manufacturing & Engineering Design
College
Grand Valley State University
Career
Computer Engineering & Computer Science
William Hovestadt
Portage Northern High School
Parents
Aaron & Krista Hovestadt
Program
EFE Advanced Marketing
College
Kalamazoo Valley Community College
Career
International Business
Megan Ianni
Portage Northern High School
Parent
Julie Ianni
Program
EFE Engineering in Wood Technology
College
Kalamazoo Valley Community College
Career
Finance or Law
Emma Kellam
Gull Lake High School
Parents
Timothy & Lisa Kellam
Program
EFE Health Science
College
Kalamazoo Valley Community College
Career
Nursing
Kyle Kelly
Vicksburg High School
Parents
James & Mary Beth Kelly
Program
EFE Marketing
College
Iowa State University
Career
Biological Systems Engineering
Abby Lafler
Vicksburg High School
Parents
Richard & Melissa Lafler
Program
EFE Accounting II
College
Spring Arbor University
Career
Psychology
Brandon Lee
Gull Lake High School
Parents
Richard & Alison Lee
Program
EFE Marketing
College
Grand Valley State University
Career
Business
Logan Loofboro
Kalamazoo Central High School
Parents
Steve & Cindy Poor
Program
EFE Culinary Arts
College
Kalamazoo Valley Community College
Career
Culinary Arts
Linus Mallett
Portage Northern High School
Parents
John Mallett & Mary Severe
Program
EFE Advanced Marketing
College
University of Colorado
Career
Finance
Rowan Mathieson
Loy Norrix High School
Parents
Adisah & Angie Harrier
Program
EFE Conservation Biology
College
Western Michigan University
Career
Biology
Hailey McConnaghy
Vicksburg High School
Parents
Michael & Amy McConnaghy
Program
EFE Health Science
College
Kalamazoo Valley Community COllege
Career
Nursing
Nathan McNair
Loy Norrix High School
Parents
William & Robin McNair
Program
EFE Accounting
College
Ferris State University
Career
Actuarial Science
Haylee Meadows
Gull Lake High School
Parents
Kevin Meadows & Kristin Lockrem
Program
EFE Teacher Academy
College
Western Michigan University
Career
Elementary Education
Lindsey Miller
Vicksburg High School
Parents
Scott & Katherine Miller
Program
EFE Professional Health Science
College
Kalamazoo Valley Community College &
Davenport University
Career
Nursing
Naree Mitchell
Loy Norrix High School
Parents
Ronald & Marie Cole
Program
EFE Law Enforcement II
College
Kalamazoo Valley Community College
Career
Criminal Justice or Communications
Sheila Mwanda
Portage Northern High School
Parents
Kennedy & Alice Mwanda
Program
EFE Digital Video Production
College
Grand Valley State University
Career
Journalism
Cameron Nosal
Portage Central High School
Parents
Patrick & Lori Nosal
Program
EFE Marketing
College
Kalamazoo Valley Community College
Career
Pre-Dental
Halle Phelps
Schoolcraft High School
Parents
Kurt & Rachel Phelps
Program
EFE Business Administration Management & Operations
College
Olivet Nazarene University
Career
Elementary Education
Cameron Phillips
Loy Norrix High School
Parents
Guy & Stacy Phillips
Program
EFE Accounting
College
Western Michigan University
Career
Finance
McKenzie Phillips
Galesburg-Augusta High School
Parents
Keith & Terri Jordan
Program
EFE Business Administration Management & Operations
College
Western Michigan University
Career
Nursing
Trinity Posey
Portage Northern High School
Parent
Myisha Crayton
Program
EFA Advanced Musical Theatre
College
New York University, Tisch School of Arts
Career
Musical Theatre
Leslie Powers
Portage Central High School
Parents
Todd & Judy Powers
Program
EFE Health Science
College
Western Michigan University
Career
Labor & Delivery Nurse
Jakob Preston
Kalamazoo Central High School
Parents
Jason Preston & Jennifer Savage
Program
EFE Electronics & Robotics
College
Western Michigan University
Career
Electrical or Mechanical Engineering
Lillian Randall
Portage Northern High School
Parents
Jared & Karen Randall
Program
EFE Aviation Technology
College
Undecided
Career
Flight Science
Alyssa Riker
Portage Northern High School
Parents
Christopher & Heidi Riker
Program
EFE Accounting & Finance
College
University of Akron
Career
Accounting
Serenity Rostick
Kalamazoo Central High School
Parents
Octavious Rostick & Nicole Broughton
Program
EFE Construction Trades
College
Western Michigan University or
Ferris State University
Career
Construction
Nathalie Sampson
Portage Central High School
Parents
Dan & Aaron Sampson
Program
EFE Accounting & Finance
College
Kalamazoo Valley Community College
Career
Spanish & Undecided
Vic Simmons
Vicksburg High School
Parents
David & Heather Simmons
Program
EFA Creative Writing Online
College
Michigan State University
Career
Political Theory & Public Relations
Olivia Smith
Kalamazoo Central High School
Parents
Sean & Amy Smith
Program
EFE Business Administration Management & Operations
College
Kalamazoo College
Career
Biology & Environmental Studies
Nicklas Spencer
Galesburg-Augusta High School
Parents
Samuel Spencer & Jane-Marie Adams
Program
EFE Accounting
College
Kalamazoo Valley Community College
Career
Law
Annemarie Stacey
Portage Central High School
Parents
Joseph & Christine Stacey
Program
EFE Teacher Academy
College
Indiana University, Purdue,
University of Indianapolis
Career
Psychology
Abigail Stark
Gull Lake High School
Parents
John & Kathleen Stark
Program
EFE Business Administration Management & Operations
College
University of Washington
Career
International Studies & Public Policy
Parker Stoken
Loy Norrix High School
Parents
Paul & Dorothy Hotrum
Program
EFE Computer Technology II
College
Kalamazoo Valley Community College
Career
Computer Science
Cassandra Tank
Kalamazoo Central High School
Parents
Herman & Pamela Tank
Program
EFE Art & Design Career Skills
College
Grand Valley State University
Career
Video & Film Production & Entrepreneur
Asiana Tidwell
Loy Norrix High School
Parents
Andre Sawyer & Micheala Tidwell
Program
EFE Business Administration Management & Operations
College
Wayne State University
Career
Marketing
Allyssa VanLoo
Vicksburg High School
Parents
Mark & Kathy VanLoo
Program
EFE Veterinary Science
College
Missouri State University
Career
Pre-Veterinary Medicine
Alex VanMiddlesworth
Climax-Scotts High School
Parents
Troy VanMiddlesworth & Nikki Gale
Program
EFE Computerized Manufacturing
College
Kalamazoo Valley Community College
Career
Machine Tool Technology
Alvaro Velasco
Gull Lake High School
Parents
Eric Munoz & Annick Beaulieu
Program
EFE Computer Science Software Engineering
College
Undecided
Career
Software Engineering
Samantha Verburg
Galesburg-Augusta High School
Parents
Randy Verburg & Tiffany Wellborn
Program
EFE Marketing
College
Kalamazoo Valley Community College
Career
Kinesiology
Jaden Vroegop
Gull Lake High School
Parents
Curt & Jennifer Vroegop
Program
EFE Cosmetology
College
N/A
Career
Business
Leeanna Wagner
Vicksburg High School
Parents
Mark & Windee Wagner
Program
EFE Fundamentals of Health Science
College
Grand Valley State University
Career
Nursing
Naquria Ward
Loy Norrix High School
Parent
Annissa Pace
Program
EFE Business Administration Management & Operations
College
Olivet College
Career
Criminal Justice
Gabby Wark
Kalamazoo Central High School
Parents
Gary Wark & Kimberly Pillars-Wark
Program
EFE Marketing
College
Kalamazoo Valley Community College
Career
Business
Grace Wile
Vicksburg High School
Parents
Larry Wile & Lorie Stock
Program
EFE Dental Assisting
College
Kalamazoo Valley Community College
Career
Dental Hygiene
Joshua Winters-Brown
Kalamazoo Central High School
Parents
Samuel Brown & Pear Rojas-Brown
Program
EFE Computer Technology
College
Western Michigan University
Career
Computer Engineering & Computer Science