Return to Headlines
Miller Honored as ACTE Administrator of the Year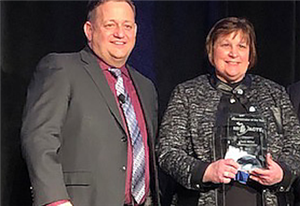 Kalamazoo RESA's Assistant Superintendent of Secondary Programming, Debra Miller, has been selected as the 2019 Michigan Association for Career and Technical Education (MI ACTE) Administrator of the Year. This award recognizes CTE administrators, program specialists, and other CTE staff who have made significant contributions toward innovative, unique, and effective CTE programs.
Miller has been devoted to education for more than 30 years. As a CTE teacher, she taught business, accounting, and computer programming courses. She has served as the Kalamazoo RESA Education for Employment (EFE) Student Services Administrator and later as the EFE Executive Director. In 2015, she was named Kalamazoo RESA Assistant Superintendent of Secondary Programming, which includes EFE, Education for the Arts (EFA), Early/Middle College (EMC) and Youth Opportunities Unlimited (YOU).
"When I heard that Deb had won this award, I was impressed with how quickly she credited the hard work and skill of her entire team," said Dave Campbell, Kalamazoo RESA Superintendent. "I am proud of what Deb and her team have accomplished and their commitment to continuous improvement of the services we offer students in the Kalamazoo RESA service area."
In Michigan in 2017-2018, more than 110,000 high school students participated in CTE. The number of programs and students in the state has grown for three consecutive years, highlighting the need for educational programs in healthcare, technology, culinary arts, and the skilled trades.
"Now more tan ever, we must provide students with the tools and resources they need to succeed in high-demand careers," Miller said. "CTE programs accomplish that by providing students with hands-on learning and the real-life skills they need, and that employers want," she said.
During her career, Miller has been instrumental in promoting, developing, and implementing career and technical education programming for students not only in Kalamazoo County, but across the state of Michigan. She was the director of an Algebra II Curriculum Integration grant that impacted students statewide. She was also essential in the development of the Early/Middle College (EMC) at Kalamazoo RESA. She has served on numerous state and regional committees including the Career Education Planning Districts (CEPD) Executive Board, the MI ACTE Executive Board, the Marshall Plan for Talent for Southwest Michigan, the state Added Cost Referent group and the Teacher Certification Committee.
"I am honored to be chosen for this recognition by MI ACTE," Miller said. "Career and Technical Education is essential to students' future success, as well as the success of our economy. These programs provide a pathway for students to realize their best life, whether that means a career in the trades, or a four-year degree. CTE works," she said. "It works for students, our business and industry partners, and our economy."
Congratulations, Deb!
For more information about Secondary Programming in Kalamazoo County, visit kresa.org.