Return to Headlines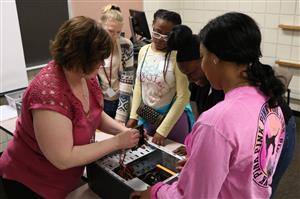 Ninth-grade girls from high schools across Kalamazoo County explored non-traditional career opportunities at the Wonder Women at Work expo on Friday, May 18 at Kalamazoo Valley Community College (KVCC).
The female ninth-graders from Kalamazoo Central, Portage Northern, Portage Community, Comstock, Comstock Compass, Gull Lake, Kalamazoo Christian, Parchment and Schoolcraft high schools were given hands-on opportunities to explore the career fields of computer information systems, computer technology, law enforcement and drafting.
Students explored several traditionally male-dominated career fields, such as computer information systems, computer technology, drafting and law enforcement, as well as toured prominent local industries Parker Aerospace and Stryker Instruments.
"We are pleased to offer this opportunity for ninth-grade girls across our county. It is so exciting to see these young ladies so full of energy as they explore these careers. By meeting professional women in these fields, they are able to see a glimpse of themselves in that career," said Education for Employment Student Services Coordinator Diane Fort. "Many students have said that this event motivated them and gave them the confidence to consider these non-traditional career opportunities. It is truly an inspirational day."
A very special thank you to Parker Aerospace, Stryker Instruments, KVCC's Chris Gearig, Ailsa Gray, Lauren Puttkammer, Yihan Wang, Education for Employment's (EFE) Rostam Ahmad Daud and Kalamazoo RESA's Jennifer Lim, KVCC's Rick Garthe, EFE and Kalamazoo Department of Public Safety's Brian Brusach and KDPS Chief Karianne Thomas for contributing to this invaluable opportunity for our female students.
View photos from the exciting Wonder Women at Work expo on the Education for Employment Facebook page.
Learn more about Education for Employment's course offerings at www.kresa.org/efe.