Return to Headlines
YOU Begins Mentorship Program to Cultivate Community Amidst COVID-19
Nov. 30, 2020
Kalamazoo, Mich. – YOU is launching a mentorship program to cultivate community and build networks amongst its young adult participants and it needs Kalamazoo area leaders to step up to the challenge.
YOU is a Kalamazoo RESA career pathway planning program for young adults typically serving 14- to 24-year-olds. Its staff facilitate soft skills coaching, formal education, and real-world work experiences to prepare participants for sustainable and competitive employment.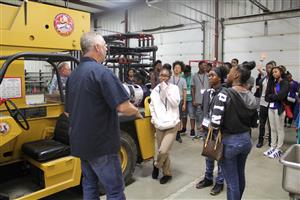 In addition to the services YOU provides, it works with Kalamazoo partners to play the crucial role of developing participants' confidence, talent and support networks. In typical years, connecting with the community and helping participants build their networks comes easily, but this year brought with it new challenges. Students' social, academic and extracurricular lives now exist primarily on their Chromebooks, demanding more dynamic contact with adults who will support them in achieving their goals. And YOU, too, as it continues to find creative ways to provide opportunities to young adults, still needs the insight and experience of local professionals and community leaders to guide its work.
YOU's new mentorship program promises to be the answer. The program is directed by Special Initiatives Manager Molly Fitz Henry, who said it was born out of a shared need from students, partners and the career pathway organization itself.
"Career pathway planning with young people always requires a degree of creativity," Fitz Henry said. "Since many Kalamazoo students are spending long days at home on computers, the need for a dynamic and engaging solution to supporting their career goals became clear."
YOU is currently seeing community members who are willing to participate as mentors.
Volunteer mentors will be asked to dedicate two hours each month to meet virtually with a small group of participants to discuss and support personal, professional and academic goals. Mentors can expect to help these young adults apply key life and employment skills, provide reports and evaluations, and, most importantly, seek to build longstanding relationships with their group.
"We've been forced to adapt quickly because of the onset of COVID-19 in the communities we serve, but even with all that flexibility, our goals have never changed," Fitz Henry said. "We still work hard to provide the young people we support with the best possible experiences in career exploration, soft skills training and coaching. As always, we can't do that hard work without the help of our many amazing partners! We're asking them to join our team in a new way this year – as a volunteer mentor!"
Engaged community members who have the desire to help young people in their community succeed can learn more about the program and apply at https://bit.ly/YOUMentor.