Return to Headlines
Three Recent High School Graduates Step Straight Into Chosen Career Paths
As many high school graduates are working at a summer job or preparing to begin their post-secondary education, three recent graduates, Scott Cadwell, Ryan McCallum, and Eric McCallum have a head start on their career paths thanks to Kalamazoo RESA (KRESA)'s Career and Technical Education (CTE) Construction Trades classes and the internship opportunities provided to them through its Work-Based Learning program.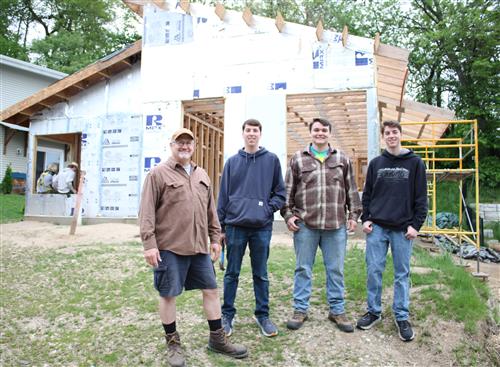 "They're all stepping right into their chosen career fields," said Neil Boss, CTE Construction Trades Technical Assistant, who helps teach the class along with Instructor Rob Ling.
Boss explained that his former students, whom he described as having a "special place in [his] heart," each had the opportunity to partake in an internship program while they were in high school through the Work-Based Learning program.
"After that, it became real for them," said Boss. "They got to see the many options and career fields available, and they became excited about what was behind 'Door Number Three' when they graduate."
According to Scott Wills, KRESA CTE Work-Based Learning Coordinator, the internships that Boss was referring to were part of a four-week-long program where students spend one week with each participating business, which included local partners CSM Group, Frederick Construction, Miller-Davis, and UA Local 375 Plumbers and Pipefitters Union. Wills added that Milestone Senior Services will also be participating this upcoming 2022-23 school year.
"The internship provides an excellent opportunity for our Construction Trades students to be on actual job sites with different area construction businesses," said Wills. "It also gives businesses an opportunity to find talented individuals that they might like to hire in the future."
That is precisely what happened when these three students experienced the internship program.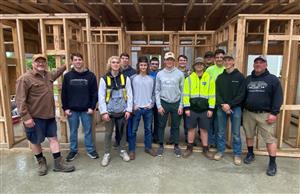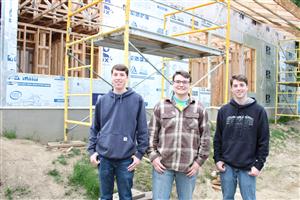 Eric McCallum, a graduate of Galesburg-Augusta High School, expressed his thoughts about how the CTE Construction Trades program prepared him for his future career path, which according to him, includes a five-year apprenticeship with the local 357 Union to become a journeyman HVAC Tech, and one day he said he hopes to have his own company.
"I learned a ton about the world of construction," said McCallum, "and it prepared me to be able to go into a Union HVAC apprenticeship as soon as I graduated."
Scott Cadwell, also a graduate from Galesburg-Augusta, was accepted into the 357 Plumbers and Pipefitters Union, and fellow classmate Ryan McCallum will be working as a Construction Assistant for AVB.
"Employers in the trades really like to see Construction Trades on your resume," said Ryan.
All three graduates said that they believe their CTE coursework helped in securing these positions, and they are excited about what their future holds as they move forward in their chosen career fields.