Return to Headlines
Leveraging Relationships: The Key to Strengthening the Workforce of Tomorrow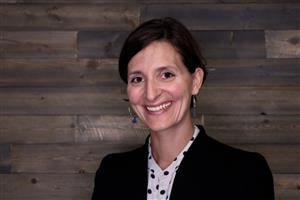 Throughout the cradle to career pipeline, the business and educational communities must work hand-in-hand to prepare the next generation for success in the workforce. From involvement in career awareness and exploration, to offering work-based learning opportunities to students and more, this close collaboration is critical to promoting regional economic prosperity and ensuring that area youth are prepared for the high-demand jobs of the future.
To promote this important synergy, Kalamazoo RESA (KRESA) has brought on Sarah Mansberger as its business and community relations lead. Her work with KRESA Career & Technical Education (CTE) will foster close partnerships with the business community of southwest Michigan.
As part of her role, Mansberger will analyze broad national trends and facilitate regional labor market research through the W.E. Upjohn Institute for Employment Research. Additionally, she will also conduct focus group surveys with area employers to align their expectations and needs with CTE programming.
The crucial collaboration of KRESA's Public-Private Partnership, convened by Southwest Michigan First, affirmed the need for highly credible business studies to project the high-demand, high-wage jobs of the future. The results will allow Kalamazoo RESA CTE to purposefully tailor programming around in-demand occupational fields to assist students in earning industry recognized credentials, promote cross-sector collaboration and bring meaningful and at-scale programming to life in Kalamazoo County.
"These studies will become our filter for decision-making," explained Mansberger. "With insights from employers, we will be positioned to help students prepare for high-wage, high-demand career opportunities right here in our community."
Prior to her role with Kalamazoo RESA, Mansberger spent three years with Southwest Michigan First, rising to the role of managing partner, where she facilitated professional trainings for business leaders around the subjects of leadership, culture, emotional intelligence and more. Mansberger has also worked for organizations such as Humanex Ventures and Cara Chicago.
"The studies are one piece of the puzzle, but ultimately the work is about building bridges with industry partners to create more opportunities for all young people in Kalamazoo County to see what they can be," said Mansberger.
When Mansberger isn't thinking about the projected state of economic prosperity in southwest Michigan and opportunities for youth, she enjoys spending time with her husband, Lucas, and their three children, Lucy, Sybil and Isaac.
Learn more about Kalamazoo RESA CTE and the work being done to design innovative K-12+ CTE programming for students across Kalamazoo County at kresaCTE.org.