Kalamazoo RESA News & Events
Return to Headlines
Project Lead The Way hosts STEM Showcase
K-12 students demonstrate hands-on science and tech skills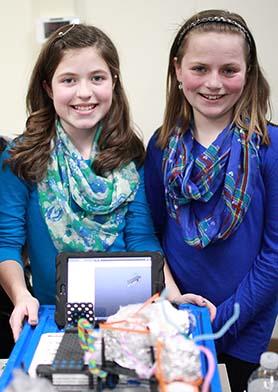 On March 13, 40 students from kindergarten through 12th grade exhibited their science, technology, engineering and math (STEM) problem-solving skills at the Kalamazoo RESA service center. Handmade catapults and air-powered cars are just a couple examples of the projects students created through
Project Lead The Way (PLTW)
, a science/tech education curriculum that's been expanding in Kalamazoo County.
PLTW was piloted last school year at Portage Central and Schoolcraft Middle Schools and Vicksburg High School. Now it's in place at 12 county schools, with over 2,000 students participating. Jason Luke, who coordinates PLTW locally through Kalamazoo RESA's
Education for Employment
program, anticipates up to 10,000 area students will participate by the 2016-2017 school year.
PLTW engages area business volunteers, including machinists, engineers and management, to work side by side with students in the classroom. Several local companies have made significant financial donations to fund the program.
This year's event will feature panel discussions with PLTW teachers and students, plus speakers from area industries. These include Dave Maurer, chief financial officer of Humphrey Products Corp.; Jim Sertic, president of Sertic Consulting & Implementation (retired president of AccroSeal) and Mike Smitley, engineering section leader at DENSO Manufacturing Michigan, Inc.
Luke believes school/business partnerships like PLTW benefit all involved. "Building a dialogue between employers and educators is essential to attracting new talent to STEM-related careers like manufacturing," he says. "Too often, we leave the development of curriculum in the hands of one group, while another group knows the skills future jobs are going to require. We need both sides of the talent development equation to work together."
Corporate sponsors of PLTW in Kalamazoo County schools include Accu-Mold Inc.; Humphrey Products; Schupan & Sons; Pfizer, Inc.; Flowserve, Inc.;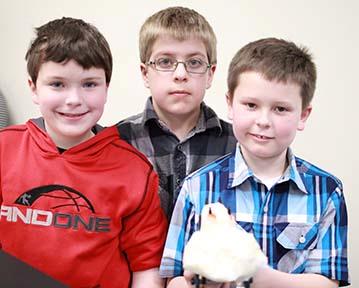 American Axle & Manufacturing Inc., General Motors; Stryker Instruments; Graphic Packaging International; DENSO Manufacturing Michigan and Autocam Corporation. The program also has received funding from the Hall Technology Initiative, Hall Foundation, Southwest Michigan Technology Consortium, Stryker-Johnston Foundation, Kalamazoo Community Foundation and the Northwood Foundation.
Project Lead The Way
is a nonprofit organization that helps students develop the skills necessary to succeed in a global economy. It provides K-12 STEM programs to more than 6,500 elementary, middle and high schools in all 50 states and the District of Columbia.
Schools using PLTW in Kalamazoo County are Comstock STEM Academy, Hillside Middle School, Kalamazoo Central High School, Linden Grove Middle School, Maple Street Middle School, Milwood Middle School, Portage Central and West Middle Schools, Schoolcraft Elementary and Middle Schools, Vicksburg Middle and High Schools.