Return to Headlines
KRESA Career Connect Announces the Launch of Mobile Discovery Lab with the Support of Pfizer and Stryker
KRESA Career Connect Announces the Launch of Mobile Discovery Lab with the Support of Pfizer and Stryker.
Kalamazoo RESA (KRESA)'s Career Connect program, in partnership with local industry leaders Pfizer and Stryker, proudly announces the unveiling of its groundbreaking mobile Discovery Lab. This dynamic initiative is a part of the agency's redesign of career and technical education in Kalamazoo County, reflecting the aspirations of KRESA's forward-thinking vision for career education.
KRESA's Discovery Lab is a mobile, vehicle-based facility that is equipped to provide accessible, hands-on career awareness and exploration experiences, especially for younger learners. The Lab features advanced industry equipment, multimedia tools and interactive exhibits to create a rich learning environment. It is designed to be flexible and can travel to schools, communities and events to bring specialized educational resources directly to learners. The goal of the Discovery Lab is to promote awareness and exploration of technical career fields, allow for hands-on experimentation and provide access to tools or equipment that might not be readily available in standard classroom settings.
The Discovery Lab will be traveling to various schools in Kalamazoo County, starting in the current 2023- 2024 school year, and will also appear in the City of Kalamazoo, including Northside, Eastside and Edison neighborhoods. This proactive outreach targets the dual objective of engaging the community and providing wider access to state-of-the-art educational resources.
"The concept for the Career Connect Discovery Lab came from a desire at Kalamazoo RESA to increase exposure to a variety of careers for our young people and eliminate barriers of access," said Jason Luke, Director of Career Awareness and Exploration.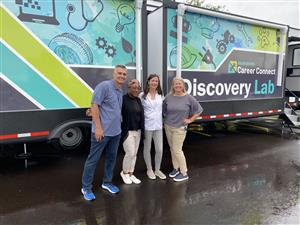 "We are looking forward to reaching out to every school district, various neighborhoods, and community events in Kalamazoo County," said Luke. "Our plan is for the Discovery Lab to be used in the evenings, on weekends, during the summer. We want our community to have fun and learn together."
According to CAE team Career Development Consultant, Jocelyn Wright Newman, the Discovery Lab will take the world of high-wage, high-demand careers directly to students out in their local school communities.
"With the construction of the Career Connect Campus, our students will have even greater access to world-class CTE programming," said Newman, "and the goal of the Discovery Lab is to get students excited about the career opportunities that they can begin preparing for right now. We will bring engaging, hands-on activities that will allow students to connect their interests and skills to specific career opportunities that are in demand right in Kalamazoo County."
Both Pfizer and Stryker have supported the Discovery Lab philanthropically, underscoring the significance and potential of the Discovery Lab to industry partners.
KRESA was the fortunate recipient of a Pfizer "Moonshot" grant in support of this initiative. Pfizer's Moonshot grants are aimed at supporting local community-based organizations that are helping to connect students from diverse and underrepresented communities to STEM education and careers. The grant program was funded with the proceeds of the book "Moonshot: Inside Pfizer's Nine-Month Race to Make the Impossible Possible" which chronicles Pfizer's experience bringing forward to COVID-19 vaccine.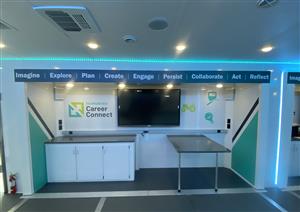 "This project would not have been possible without the partnership involvement of our community. Multiple business partners, including Styker, Pfizer, educators, administrators, colleagues, and teachers," said Cassie Watts, KRESA CAE team Career Development Consultant. "The Project Team lead with the vision of integrating CTE & STEM learning, and customizing it to reflect the industry, and then right-sized it for our learners."
Discovery Lab Highlights Include:
Versatility: Designed to showcase diverse industries and career pathways, starting with a focus on Advanced Manufacturing.
Inclusive Curriculum: "Manufacturing and Me" curriculum, aimed at 4th-7th graders, has been meticulously crafted in association with Learning Undefeated, a non-profit partner that brings STEM resources and experiences to under-resourced communities.
Engaging Interactivity: Modules allow learners to transition items from concept to completion, demonstrating the entire manufacturing cycle.
Hands-on Industry Interactions: Learning is facilitated by volunteers from industry, offering unique insights into local manufacturing processes.
When asked what they were most excited about now that the Discovery Lab is finally here, Career Development Consultant Lorri Batsie shared her enthusiasm: "I can't wait for students to see the Lab at their school and say, 'We get to go on that?' Then, when they see the tools we're using, they will say, 'We get to use a laser? A welder? A robot?'," said Batsie. "Hopefully, some students will think Mechatronics is a career they would like to learn more about after feeling like they successfully programmed a robot arm."
Jocylyn Wright Newman shared in the excitement, adding, "I'm excited to see students' understanding of themselves and their career journey expand as a result of the Discovery Lab experience. We want all young people to feel hopeful and excited for their futures and the lab experience is designed to fuel that hope through engaging students with real-world connections."
The KRESA Career Connect Discovery Lab will make its first public debut during a free career exploration event, MiCareerQuest Family Night, on Oct. 24, 2023, from 3:30 – 6 p.m. at the Kalamazoo County Expo Center. The event is free and open to the public.