Return to Headlines
Powering the Future: Pre-K Sign-ups Open
If your child turns three or four years old on or before December 1, 2022, they could be receiving high-quality pre-kindergarten education at low or no-cost this fall. The application for Kalamazoo County Pre-K is now open at www.dreambigstartsmall.org.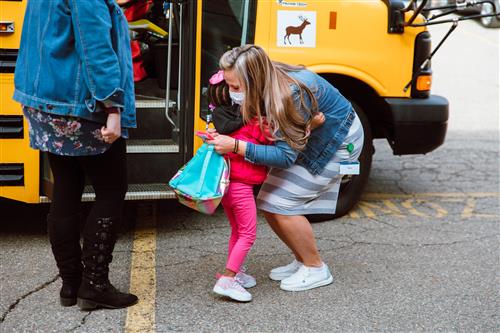 Students who participate in high-quality pre-kindergarten, like Kalamazoo RESA Head Start, benefit from lifelong advantages that help them become more successful adults. Studies show that students enrolled in Pre-K are better prepared for kindergarten and as a result, do better in school overall.
Five Reasons to Say YES to Pre-K
1. Children who go to preschool develop early literacy and math skills like knowing the names and sounds of letters and the meanings of numbers. High-quality Pre-K helps children build a strong foundation that supports their lifelong educational journey.
2. Children who go to preschool learn social-emotional skills. These skills help little ones learn to resolve conflict, manage their emotions, have empathy and build relationships.
3. Children who go to preschool develop fine motor skills from classroom activities like cutting paper, playing with playdough, and writing their names. They develop gross motor skills from outdoor play and organized physical activities.
4. Children who go to preschool tend to be more independent, both with their schoolwork and things like backpacks, coats and boots. Pre-K helps teach independence through daily routines, such as getting dressed for recess or cleaning up at the end of the day.
5. Children who go to preschool may be better behaved because they're used to classroom expectations. The structure in a Pre-K classroom helps students know what to expect and how to behave in the classroom, setting them up for success in school later on.

There are several programs available for young students in Kalamazoo County this fall. Many are low or no-cost, and transportation may be available. A single application will help determine the best fit for your family.
Kalamazoo County Pre-K is made up of the following programs, all of which are licensed by the State of Michigan:
Head Start – Federally-funded education for eligible 3- and 4-year-olds
Kalamazoo County Ready 4s – Private and public early childhood providers for 3- and 4-year-olds
Great Start Readiness Program – State-funded Pre-K programs for eligible 4-year-olds
While the COVID-19 pandemic continues to pose many challenges, Kalamazoo County Pre-K teams take health and safety seriously, following the most recent guidance provided by the Centers for Disease Control (CDC) and the State of Michigan.
To learn about the many Pre-K options available in Kalamazoo County, visit www.dreambigstartsmall.org or call (269) 250-9333 for more information.
02/24/2022