Return to Headlines
The Stuff the Turkey food drive was a remarkable success, and will feed a total of 65 families a free Thanksgiving meal.

The Families received baskets stocked full with stuffing, potatoes, gravy, corn, green beans, cranberry salad, pasta, a dessert, roasting pan, a gift card to help provide a main course, such as a turkey or ham, as well as extra sides and meals for the four-day weekend.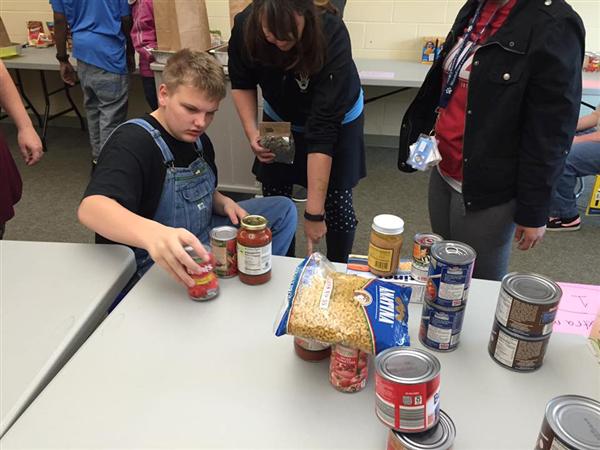 WoodsEdge Learning Center (WELC) and Kalamazoo RESA Service Center staff, along with Portage-area community members donated enough canned and boxed food, gift cards and money to the food drive that every family that requested a basket was able to receive one.

In addition to the families and staff that donated, WELC students also participated. "Students in our vocational program packed the baskets for families and made gift card holders. Students in our art class made thank you cards for community donors and volunteers," said Alisha Krcatovich, WELC Special Education teacher and Stuff the Turkey food drive coordinator.

"Portage Free Methodist Church members donated a large portion of our monetary donations, and their youth group and church members delivered over 20 baskets to our families that have difficulty with transportation," said Krcatovich.

The food drive received so much food that they were able to donate several baskets and gift cards to Parent to Parent of SWMI in an effort to help with their Thanksgiving food drive which benefits families that have children with special needs in Southwest Michigan.

"Staff and students' families were eager to help. It was exciting to see everyone come together to meet the goal and help our families! The generosity was overwhelming," said Krcatovich.